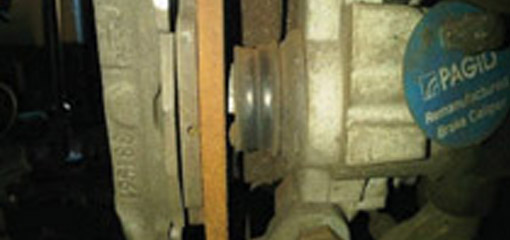 At first glance this issue's horror story looks like another brake pad 'gone missing'. But Mike Evans from Heath Tyre Services in Cardiff found something a bit more unusual.
The customer came in complaining about a rubbing noise from the rear. Removal of the nearside rear wheel soon exposed the calliper piston as the culprit. The inner pad had fallen out - because someone had not refitted the retaining slides - and the piston was rubbing the disc face. It was evident that repairs were recent but the customer was not clear about who had left the slides out.
As the wheel was removed it was found that the alloy wheel had split in two, held together by a wing and a prayer. The assumption is that the pad dislodged itself from the calliper, rubbed against the wheel, then, as the wheel was removed, it split in two and the pad dropped out into the void between the well and the tyre cap.
Astonishing as this is, the customer didn't seem bothered by it.
Send us your horror stories to mattersoftesting@vosa.gov.uk