There are a number of ways to make slot payments, but using Direct Debit is by far the easiest way.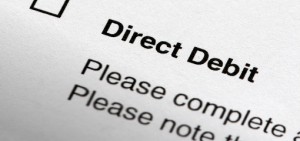 It's simple to use and allows you to order slots through your VTS device at any time. You can choose the amount and when you want to pay, either on 5th or 20th day of each month.
Providing there are sufficient funds available, these slots will be immediately added onto your system and ready to use.
How much should I pay each month?
As a guideline, it's a good idea to base your monthly payment on the average amount of MOT tests you complete each month. For example, if you use 100 slots per month set up a Direct Debit payment of £205.
What if I am not paying enough?
If this isn't enough, you can top it up any time with payments by cheque, credit or debit card or increase your monthly Direct Debit amount.
We always advise that you consistently monitor your test slot levels and make sure you have a minimum of 2 days available at all times to avoid the risk of being unable to test.
What if I am paying too much?
If you're paying too much, you can reduce your monthly Direct Debit payment. To reduce your payment or amend your account details you will need to notify us by post at the address below. Please bear in mind that banks require 10 working days notification to carry out these kinds of changes.
To set up a Direct Debit
call us on 0345 071 1973 (choosing Option 1 then Option 2 for our MOT Fee Collections Team)
fax a request to 0191 375 6517
post a request to: VOSA, Po Box 415, Durham, DH99 1YZ
Paying by credit or debit card
If you choose to pay by credit or debit card we'll do our best to process all payments as quickly as possible but please note that all orders are processed in date and time order.
We continually receive high numbers of calls from garages chasing orders because they've run out of test slots but NO PRIORITY is given to anyone who has run out of slots.
These high call volumes only slow the processing of payments down so please make sure you have enough slots available and please take into account the following payment processing deadlines:
•    Orders placed before 3pm Monday to Friday will be processed by 5:30pm the same day
•    Orders placed after 3pm Monday to Thursday will be processed by 5:30pm the following day
•    Orders placed after 3pm on a Friday and all orders placed on Saturdays and Sundays will be processed by 5:30pm on the following Monday with all Bank Holiday orders processed the next available working day
Feature image courtesy of Shutterstock images.