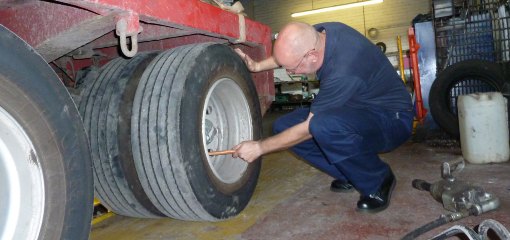 Martin Garlick has been a Vehicle Examiner (VE) in the Manchester area for 11 years. He served his time performing truck and bus maintenance and repair, has driven both types of vehicle professionally and fitted tachographs and speed limiters before joining VOSA – then the Vehicle Inspectorate – as a vehicle inspector testing heavy vehicles. Through VOSA's apprenticeship scheme he qualified to be a VE.
As well as visiting MOT stations, he also visits truck and bus operators to check that they're staying compliant. He is expected to attend court and Public Inquiries held by the Traffic Commissioner. Martin also examines vehicles involved in collisions and produces statements for court. He has to know a lot more than the MOT scheme. Which is why sometimes, when a tester asks a question, the examiner has to check the answer in the Tester's Manual.
A typical day for Martin might go something like this:
"My first appointment is to go over an application for a new testing station. I measure the plans for the building to ensure it meets the requirements, then write up the file and issue an 'approval in principal' letter for the applicant so they can move to the next step in the process.
It's 12 miles to the next job to give a new tester his practical test. He selects a suitable vehicle, then registers it in training mode and starts the test. However it all goes wrong when we find a broken leaf spring eye which is ready to come away from the rubber. This is the first time I've had to issue a prohibition during a demonstration test!
On to an MOT site assessment next. Typically, a good chat with the Authorised Examiner (AE) will give me an idea of how well things are running at the garage. The most common problem is still quality control checks not being carried out and not acknowledged by the tester, even though it only has to be one every 2 months now. Other issues tend to be VT9A authorisation letters not up to date, and special notices not being acknowledged. It would normally take me a couple of hours to complete a full assessment and give any advice required.
Just as I'm about to move onto another site assessment, I'm called to a road traffic collision on the motorway involving 2 trucks. Sadly, there is one fatality. One of the vehicles is recovered to the heavy vehicle test station, so we can carry out a full inspection to try to determine what factors may have caused the accident. I have to make sure all the reports and statements on my laptop are completed accurately, as the police may need to use these in court.
To be effective, I need to be able to talk to anybody I deal with at their level, helping them to understand the risk to road safety without seeming too authoritative.
And there's the end of another busy day!"