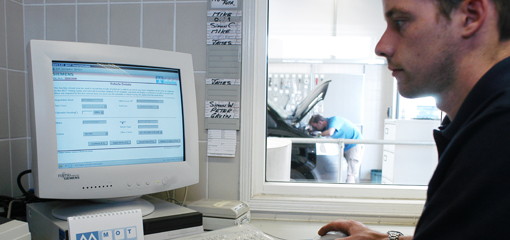 DVSA is asking all testers and other VTS roles to check and update their VTS device email address. This is to help with switching over to the new MOT testing service in 2015.
It means we can easily contact you and keep you up to date with the latest news about the new service. This will help us make the process as smooth as possible for you.
We need you to add your email addresses as soon as possible so we've got your correct details.
What are the benefits?
Updating your VTS email address will mean you'll be able to:
instantly reset your future MOT testing service password if you forget it
stay up to date with the switchover process ahead of the service going live in September
receive ongoing online training, guidance and support on how to use the new service
If you don't add an email then you'll have to wait up to 5 days for a replacement password to arrive and won't be able to test or access the new service during that period.
The email you provide can be a personal or purposely-created address for MOT queries (eg joetester@gmail.com). As long as it's an email account you regularly use then it doesn't really matter.
Updating your VTS device details
To find out how to update your email address please read our MOT Modernisation: update your VTS device details guidance on GOV.UK.
If you have any problems updating your details please email mot.modernisation@vosa.gsi.gov.uk and we'll be in touch as soon as we can.
Please don't contact your Area Office, the DVSA Customer Service Centre or Atos Helpdesk. They won't be able to answer your questions.