White van man' is of course a stereotype but the general roadworthiness of vans is of serious concern whatever the colour. With a high proportion of class 7 vehicles failing their MOT test year on year, it's pretty obvious that things have to change.
Did you know?
63% - proportion of vans found with serious mechanical defects
50% - average roadworthiness prohibition rate
50% - failure rate for Class 7 MOTs
During 2013, VOSA is conducting a targeted programme to address this situation and raise the standards of the LGV industry.
Your van – best practice guide
We have produced a best practice guide that includes an operator checklist, a driver checklist and a diagram of a van walk around check and has been produced along with trade input. The guide has had input and support of key stakeholders and is a useful reference point for people who use vans not only for business, but also for private hire.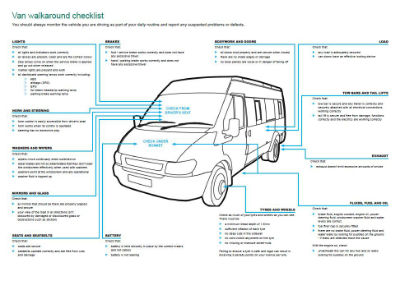 The MOT industry can help out by advising customers to download the 'Your van - best practice guide' from GOV.UK to their computers, smart phone or tablet for help with maintaining vehicle standards. MOT garages can also advise their customers to carry out regular walk around checks, while referring them to the guide. This will help LGV operators and drivers to be compliant and run a more cost effective business.
The aim of this is to encourage a culture of compliance leading to a reduction in MOT failures and an improvement in prohibition rates.
Video: Focus on LGVs
VOSA Chief Executive Alastair Peoples talks about LGV testing and what the MOT industry can do to help. (Filmed March 2013).
For more information, view the full press release on GOV.UK
Feature image courtesy of Shutterstock images.