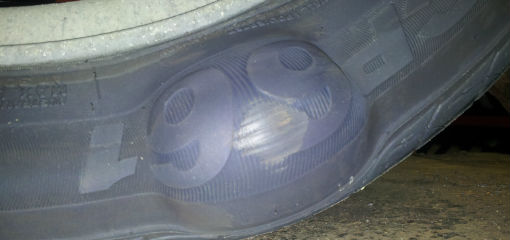 We often get asked about bulges in tyres and when do they constitute an MOT failure. Well the manual gives a reason for rejection which states  "a tyre has: a lump, bulge or tear caused by separation or partial failure of its structure. This includes any lifting of the tread rubber' [RfR 4.1D1b]."
The important thing to remember is, for it to be an MOT failure, any buldge must be caused by the failure of the tyre's structure and not simply as a result of the manufacturing process, as commonly found on many radial construction tyres.
Chris Clough from Blyth, Northumberland, sent in this example saying it was the largest buldge he has ever seen. In fact it was so big it had been fouling on the shock absorber. In this case it is clear that the tyre's structure has suffered damage or a failure resulting in the buldge in the outer wall.
Send us your horror stories to mattersoftesting@vosa.gov.uk