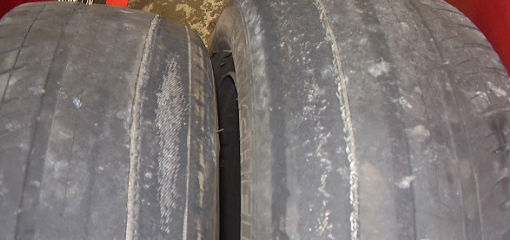 Missing regular servicing can not only be costly in the long run, but can also compromise road safety. The tyres on the front of this 51 plate 'Toyota Yaris' had clearly not been checked for some time. The owner brought the car in complaining it was making a noise and the steering wasn't right.
What they found sent them running for a valve key. Not only were both front tyres worn down to the cords but one had gone completely out of shape.
Martin Stock from A. Herring Ltd explained "the tyres were so bad that we didn't dare wait to get any photos, but just wanted to get the air out of them."
Even with the tyres deflated and removed from the vehicle, the deformation can still be clearly seen.
This would obviously be an MOT failure on a number of counts, and it shows the importance of regular servicing and safety inspections.
Send us your horror stories to mattersoftesting@vosa.gov.uk