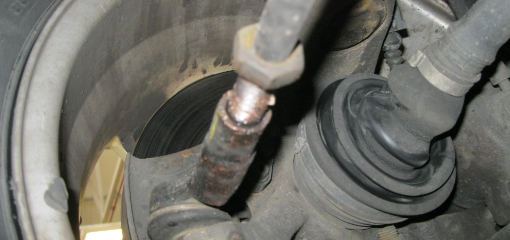 Sent in by Dave Allott of the MOT Testing Centre, Tameside, this customer was unaware of how close they were to a steering failure when presenting their vehicle for test. Dave told us that not only was the locking nut insecure, but the track rod end was only attached by the last couple of threads.
It would appear the locking nut has been backed off, possibly to allow adjustment of the tracking, and not been re-tightened.
This would fail under 2.2 C1g 'a retaining or locking device missing or insecure' purely on a visual inspection only. If the track rod end is only held on by its final threads when tested under load, it is likely to have shown signs of movement when the steering is rocked. So it may alternatively fail under 2.2 B1d 'a loose track rod or drag link end'.
Send us your horror stories to mattersoftesting@vosa.gov.uk