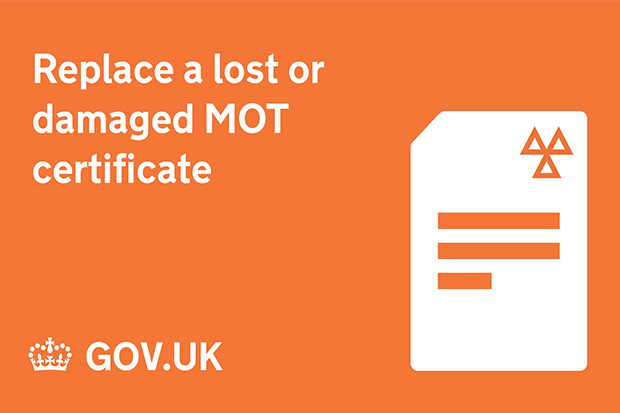 In 2018, more than 636,000 duplicate MOT certificates were issued in Great Britain. That's about 2% of all MOT tests done each year.
Duplicates are issued when vehicle owners lose or damage the original, and need a new one – perhaps when selling a car.
The MOT team has been working hard to make that process simpler.
So we're excited to launch a new service today (8 May 2019) that takes the stress out of losing an MOT certificate by allowing vehicle owners to:
view and save their MOT certificate as a PDF
print their MOT certificate
The replace MOT certificate service can be used 24-hours a day, 7 days a week.
What's included
For now, people will be able to use the service to get duplicate certificates for:
motorcycles (class 1 and 2 vehicles)
cars and passenger vehicles (class 3, 4, 5 and 7 vehicles)
We're making all certificates issued since 20 May 2018 available on the service – including both pass and fails.
We'll be expanding the service to include certificates for lorries, buses and trailers later in the year.
What the service looks like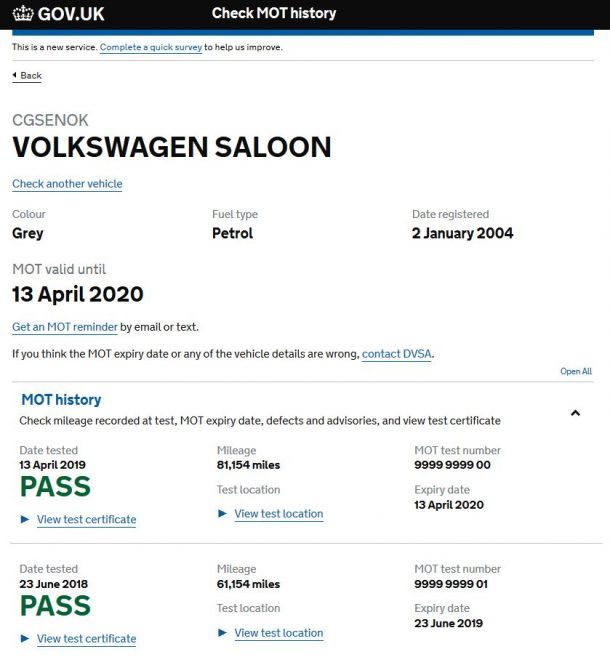 The new service is part of the overall MOT history service that you may already be familiar with. Like the rest of the MOT history service, it works on mobiles, tablets and PCs.
The option to view the certificate appears alongside the test record in the vehicle's MOT history.
To view the certificate, the user needs to type in the 11-digit reference number (without spaces) from the latest vehicle log book (V5C).
The MOT test result and certificate are available as soon as you've finished recording the result in the MOT testing service.
You can still provide duplicate certificates
Although motorists are now able to get a free duplicate of their MOT certificate online, MOT centres will still be able to provide this service for people who need it.
You'll still be able to charge up to £10 for a duplicate certificate.
You can still provide duplicates to any customer who has a right to one. As proof they can give you either:
the vehicle registration and 11-digit reference number from the latest vehicle log book (V5C)
the test number from the original certificate (although it is less likely they'll have this if they've lost it!)
Issuing 636,000+ duplicates
We knew from feedback from motorists that there was a need to make obtaining duplicates easier – having to physically go to garages was seen as a real burden.
Longer term, we want to help motorists understand that they don't need the paper certificate most of the time. But in the meantime, we were hearing that there needed to be a better way of getting a duplicate.
Protecting motorists from unofficial websites
We know that several online businesses charge people for unofficial MOT certificates.
None of these companies has a licence or any other form of permission from us to produce these look-a-like certificates.
Our new service will mean that people can access duplicates, free of charge, from the official government website.
We'll then be able to take action against those unofficial sites – and the online availability of correct certificates should reduce the demand for these unofficial ones.
Try it out
You can check out the new service for yourself by entering your own vehicle's registration and 11-digit reference number from the latest vehicle log book (V5C). Simply go to www.gov.uk/replace-mot-certificate
You also might want to encourage your customers to give it a try when they phone you and ask for a duplicate certificate.
Other things we're working on
We've been doing lots of work to improve our guidance and services to make your job easier.
This includes working on developing a guide for MOT managers on how to manage an MOT centre. We'll get the industry's feedback on this before we launch it.
We're also making improvements to the risk rating system to focus on the higher risks. We'll tell you more about these changes in the coming months.
We're also planning to make some further changes to the MOT inspection manuals following your feedback. So keep sending us your thoughts as they are vital and help us to develop and improve our products and services.