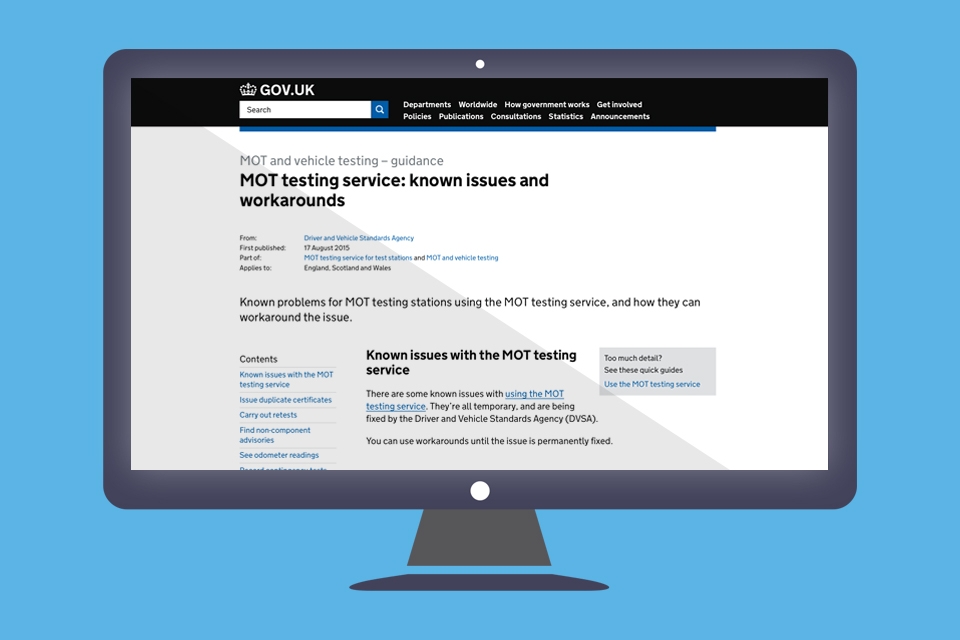 After listening to your feedback we've made some changes to make it easier for you to use the new MOT testing service.
Throughout the switchover process we've been taking on board your views and after the recent technical difficulties with the new service we're going to:
keep you updated about the latest temporary workarounds
make sure you can easily find information about the service
First of all, we'd like to apologise for the inconvenience that the recent outages have caused and assure you that we're doing everything to put things right as quickly as possible.
Making these changes is just the first step in this process of improvement and we'd like to thank you in advance for your continued patience.
Temporary workarounds
There are a number of known issues with some elements within the service, which as a result has stopped you from testing properly.
To help you overcome these hurdles we've created a new page of known issues and workarounds on GOV.UK. Please keep checking this page for the latest updates.
Go to: MOT testing service: known issues and workarounds
Updated 'Start' page
Following your feedback, we've also updated the service's 'Start' page and URL, which you can find at:
www.gov.uk/mot-testing-service
After carrying out some user research with testers we've found out that you didn't like the way the URL originally looked. So we've updated it to make it easier to find and remember. To login and start testing from this page, just select the 'Start now' button.
You can also now find all the information you need about using the service on the right-hand column under the 'Elsewhere on GOV.UK' heading.
From now on, we'll be making sure that all our new guidance gets added to this side of the page so make sure you make a note of the link or bookmark it for future use.