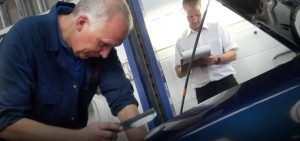 In February 2014, a number of changes were made to the MOT site assessment. These changes cover approved codes of practice, discounted test fees, and fallback and emergency testing.
Approved codes of practice
Last year the Motorists Forum looked at the customer experience when going into a garage.  The aim was to identify how 'best practice' could be rolled out across the industry to improve the quality of service for motorists.
One of the items identified was to recognise garages that currently subscribe to approved codes of practice. As a result, DVSA now recording whether Authorised Examiners are members of a Trading Standards Institute (TSI) approved code of practice. Details of approved codes can be found on the TSI website.
Continued Membership of an approved code now requires compliance with certain standards and trading ethics. This may help us to consider a VTS as low risk, resulting in reduced regulatory checks.
Discounted test fees
Question 4.6 on the Site Assessment form – Discounted Test Fees will be simplified so that only the initial test fee will be taken into account. Discounted retest fees will no longer be assessed.
Fallback and emergency testing
The checking of documentation and procedures around fallback and emergency testing will no longer be included in the site assessment.