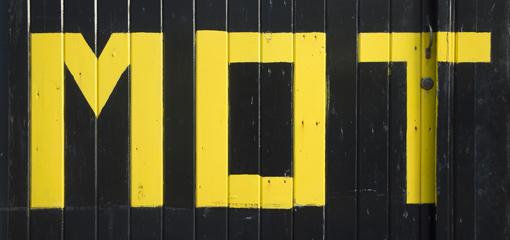 We are often asked what are the most common mistakes made by NTs, well here's a few that come up regularly.
1. Daytime Running Lamps (DRLs) and their operation
DLRs are designed to make vehicles more visible during daylight hours and are now common on vehicles of testable age. DRLs themselves are not covered by the manual and are therefore not testable items.
They are fitted to the front of the vehicle only, coming on automatically when the engine is started and independently of the other lights. Often they are incorporated within the same unit as the side lights or headlamps and care is needed not to confuse the different functions. When the side or headlamps are switched on DRLs will extinguish or dim to fulfil the side light role. Also where DRLs are in close proximity to indicator lamps, the appropriate DRL may extinguish or dip when the respective indicator is operated; this is by design and not a reason for rejection.
2. Supplementary Restraint Systems (SRS) lamps
When testing SRS MIL (Malfunction Indicator Light) lamps we are only looking to see if the lamp indicates if there is a fault with the system. If no lamp is present or it doesn't illuminate then it can't indicate a system fault, so it can't be failed. Some vehicles may also incorporate warning messages on dash board displays; these are in addition to any MIL lamps and should not be used as a reason for rejection.
Where passenger air bags are present it is also often possible to disarm them, or they may automatically disarm where there is little or no weight on the passenger seat. This may be accompanied by a lamp permanently on to highlight the airbag has been disarmed, this is not considered a SRS MIL, and therefore isn't a reason for rejection.
3. View to the rear
During the test we only need to examine the obligatory mirrors, or indirect vision devices, for presence and condition. Many vehicles have more than the mandatory number of mirrors or devices fitted and therefore a defect may not automatically be a fail. So before failing a vehicle for a missing or defective mirror, check to see if it's classed as an obligatory fitment. If it's not then it'll only be an advisory item.
Image courtesy of Shutterstock.com