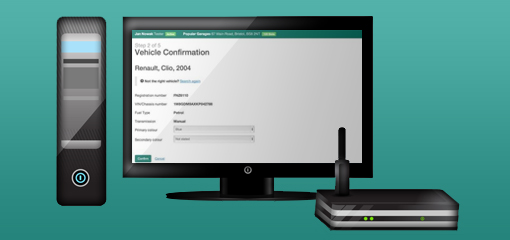 As MOT Modernisation heads towards giving garages a new up-to-date testing system, we ask Transition Manager, James Body, to take us through what will happen during the switchover process.
What does your job as Transition Manager involve?
I'm here to make sure MOT sites switch over and start using the new web-based system by September 2015. Before that date, it's my job to make sure garages have the right IT equipment in place when the roll-out starts in early 2015. As part of this we're currently contacting garages to help them understand the switchover process and address any concerns they have. Once we've decided that they're ready to move over to the new system, we'll be contacting garages to let them know their switchover date nearer the time.
What IT equipment and internet access will garages need to have in place to run the new system?
Most garages will already have the right IT equipment, so the majority of them shouldn't have to buy any new equipment. If they can visit websites without problems at the moment then they shouldn't have issues using the new system. If they have problems with internet access then we'll be providing as much support as possible before the switchover date.
What will change once a garage has moved over to the new system?
Testers will be able to use tablets to enter results while testing a vehicle if it suits them. If they don't want to use a tablet then they can still enter results after a test on a desktop computer or laptop. Apart from that there'll still be emergency testing, but this will only be available if the new system goes down for a significant amount of time or there is widespread internet failure in the local area. If any IT stops working – including any desktop PC, laptop, tablet or local internet connection problems – then it will be the garage's responsibility to fix. We're also making changes to testing security, but the replacement system will work in a very similar way to the current smart card system.

How can garage owners and staff find out more about moving over to the new system and MOT Modernisation?
The new system will be phased in over a 6-month period starting in the early part of 2015. It's designed to be easier and quicker than the current VTS device. MOT testers who've tried the new system picked up on how to enter test results in just a few minutes. We're also issuing regular updates on Matters of Testing and publishing advice and guidance in our new MOT Modernisation section on GOV.UK. Testers can also watch our 'Modernising the MOT' video to give them a good idea of what we're trying to achieve.
If you have any questions or suggestions about for MOT Modernisation please email us at mot.modernisation@vosa.gsi.gov.uk.
Image courtesy of Shutterstock.com