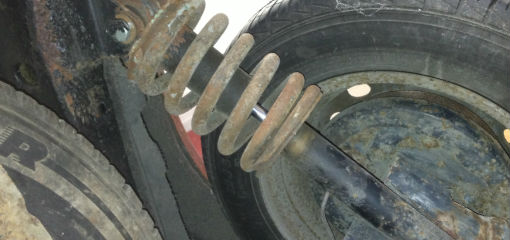 Notice anything different about the rear of this Ford Fiesta Courier? Surely this vehicle usually has a torsion bar suspension.
Andy Black of ABs MOTs in Penrith sent us this photo of a courier they had in for test. Apparently the torsion bar had fractured and someone decided it was easier to replace it with a coil spring. The original damper had been used to fashion a Macpherson strut type of arrangement by welding on some steel plates to act as spring seats, and the top mount then repositioned on the chassis.
Driving it into the workshop at 5 mph and an initial inspection was enough for Andy to abandon the test.
Send us your horror stories to mattersoftesting@vosa.gov.uk