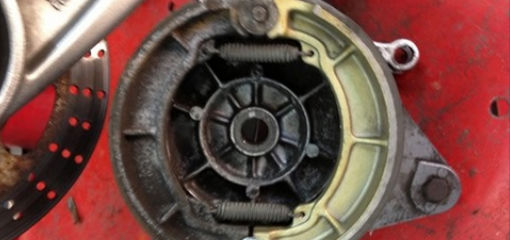 This is one for the motorcyclists out there – sent in by Daren Butler of Jim Aim Motorcycles, North Essex.
Daren told us "When testing this Kawasaki ER-5, the rear drum brake did not feel right and it locked on when conducting the performance check."
He found out that the owner had been carrying out his own repairs and came into difficulty when fitting new brake shoes. Finding he could not get both new shoes to fit he decided one would be good enough!
Daren points out "It is not possible to see the brake internals during the MOT, so it was lucky that a diligent brake test identified the fault before the brakes where needed in anger on the road."
Fortunately the owner still had the spare shoe which was then correctly fitted. Daren says "You think you've seen it all, then something like this comes along just to keep you on your toes". This is a good reminder that you can't take anything for granted when conducting an MOT.
Send us your horror stories to mattersoftesting@vosa.gov.uk