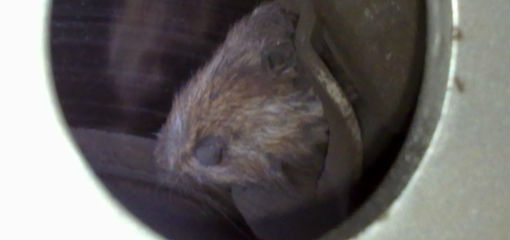 This might not be your average road safety horror story, but we're sure Pete Smith (NT) was shocked when he spotted this furry creature. Squeaky brakes? Surely this can't be the reason.
Pete was testing a Vivaro van at Heald Green Garage (Tommy Tyre's) in Wythenshawe when he came across this. We know that some types of brake pads have what's termed a 'mouse trap' assembly on them, but we thought this was to locate the pad and prevent brake squeal. After checked through the Inspection Manual, we can't find an RfR for a rodent trapped in the brake calliper.
So assuming the brake operation and performance isn't impaired it has to be 'Pass and Advise' on this one.
Send us your horror stories to mattersoftesting@vosa.gov.uk