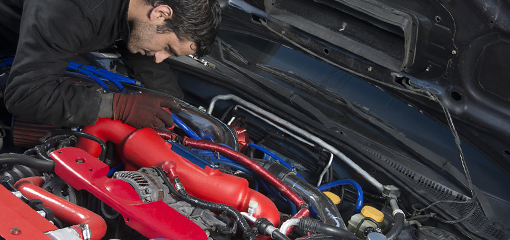 We are often asked what level of modification is necessary before a vehicle can be classed as a rally car and therefore qualify as a 'modified vehicle' as defined in the Introduction section of the MOT inspection manual.
Put simply, the vehicle must be a competition rally car that needs an MOT to be used on the road between stages. Track day cars or vehicles with 'boy racer' modifications are not competition rally cars and do not therefore qualify as a 'modified vehicle'. So if a vehicle like this is not fitted with original equipment items such as a brake servo, airbags or any other SRS (Supplemental Restraint System) equipment, it must fail the MOT test.
Unfortunately, identifying a genuine rally car is not always straightforward due to the variety of classifications. The most obvious evidence will be the mandatory fitment of a steel safety roll-over cage. The rear seats are likely to be removed and there may be longitudinal door bars and substantial underbody protection covering any area of fuel tank exposed to running damage.
The vehicle is also likely to have modified seats with full harness seat belts; a fire extinguisher in the passenger compartment; competition number boxes on the body (not displaying a number) and the emergency towing eyes painted a distinctive colour.
When there is doubt about whether a vehicle is a competition rally car, the presenter is responsible for providing proof to convince the tester that it is a genuine competition vehicle. This could be in the form of a competition certificate from the rally's governing body.
Send in your questions to mattersoftesting@dvsa.gsi.gov.uk
Image courtesy of Shutterstock.com