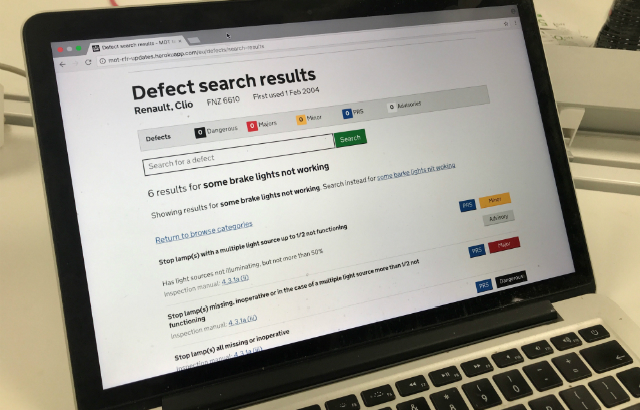 I'd like to start by thanking you for your feedback on our last blog post. Looking through your responses, one topic really leapt out at us - manual advisories.
We understand that lots of you want these to stay as they are. So we wanted to take this opportunity to explain in detail why we think there should be changes to how they work.
The need for change
One thing we can say for certain is that changes are needed in this area. As explained in the last blog post on the Roadworthiness Directive, we'll need to change the categorisation of defects so that they're rated as dangerous, major, or minor.
With a minor being very similar to an advisory, we need to look at the existing way advisories work.
We've been doing research with motorists and visiting garages to talk to testers about how and why they use manual advisories. It turns out there are a lot of reasons they use them. Some are good, others are less so, and we're determined to resolve them.
Finding the right defect
The first thing we have found out is that a lot of you are using manual advisories to make up for things you can't find as you browse down through the defect lists in the MOT testing service.
We've had a look at how you use the MOT Testing Service to see what's been going on. What happens is that people search for the defect, find that they can't locate it, and then finally enter a manual advisory.
You shouldn't have to use manual advisories because you can't find the defect in the MOT testing service. In lots of cases, we've found that a manual advisory has been used when there's already one listed.
Therefore, the issue isn't that the defects aren't listed, it's that they need to be easier to find.
How we're fixing this
To fix this, we're designing a new, improved browsing list that should be much easier to use. It should feature a more intuitive structure and clearer wording. We will keep you updated when it's ready to test.
We're also going to back this up by revamping the defect search. We aren't happy with the way it works right now and haven't promoted it widely. Some of you might not even know there is a search option.
So, we're going to completely overhaul the search feature to make it both useful and easy to use.
Protecting yourself
The second thing we found out is that a lot of you are using manual advisories to avoid unfair criticism, either from us at DVSA or from your customers, and to protect yourselves from possible repercussions.
This is fair and we understand the need to protect yourselves. That's why we're thinking about setting aside a specific area where you can make test observations about what you saw, or couldn't see, while you were testing.
The customer wouldn't see this information, but having it noted down could prove useful if there were any issues down the line. We've done research with motorists that shows most of them don't find this information helpful.
Extra service
Another thing we noticed is that you like to provide your customers with a great service. If you spot a problem that isn't part of the MOT, lots of you still want to tell them about it. This is because you take pride in your work and want to do a proper job. That's great and we absolutely encourage you do that.
We just don't need to see it on the MOT. It's a structured test and only things that belong in the MOT should be included.
If you want to tell your customers about additional issues you find out while conducting an MOT, please do so. You can just do it in the same way you tell them about issues you find while servicing their vehicle. Consider it part of your customer service, not part of the MOT.
Proceeding carefully
We realise this is a big change and we're not going to do anything rash. Each of the new features we're building will be extensively tested and we're going to put a package of support in place so you're not disrupted by them.
Watch this space for further updates.
Changing for the better
There might be a bit of a learning curve, but we're confident that the changes will help you. Our improvements to the MOT Testing Service will make it easier to find the right defect, which will remove the need for manual advisories.
You'll also be able to protect yourself from any unfair criticism using the section where you can record any extra observations you make during the MOT.
And you're still more than welcome to deliver extra value to your customers by making them aware of anything else you find during your inspection. In fact, we encourage you to do this.
As ever, we welcome your feedback. Please feel free to leave a comment below.