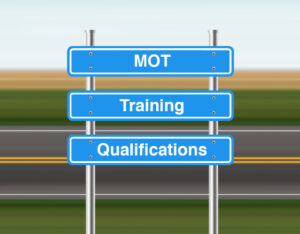 DVSA's MOT Training, Education and Skills Support (MTESS) team is currently developing nationally recognised qualifications that will professionalise the roles of MOT managers and testers.
The aim is to modernise the way in which MOT manager and tester training is carried out, to better meet the needs of our customers.
The qualifications will ensure MOT managers and testers are kept up to date through continuing professional development that they will complete every year.
What will this look like?
We're working with the Sector Skills Council for the automotive retail industry, awarding organisations and representatives from the MOT trade to create national standards.
These standards will be the platform for a national qualification and successful candidates will be issued with a Certificate of Successful Completion.
DVSA Examiners will follow up with a visit to make sure quality standards are being met. The candidate will then be issued a Certificate of Competence.
What about refresher training?
Currently, qualified MOT testers are expected to carry out 2 days of refresher training every 5 years.
Under the new scheme, MOT testers will have to complete at least 3 hours of refresher training every year.
This change will:
professionalise the roles of MOT managers and testers: A nationally recognised qualification and the confidence that comes from continuing professional development will create a more professional role for MOT testers and AEs
provide flexible learning for candidates: Training providers can offer a wide variety of courses, from intensive week long classroom-based training to part-time or online training spread over several weeks or months
improve productivity: Candidates will have a wider variety of options for course delivery, so they can spend less time on training away from their work
provide a more modern approach to training requested by industry: In recent DVSA customer satisfaction surveys, testers have indicated that they would like a more varied and modern approach to training