Happy Halloween!
If the prospect of an evening filled with children knocking on your door to demand sweets doesn't fill you with dread this Halloween, our annual round up of some of the horrors encountered by our MOT testers certainly will!
Terrible tyres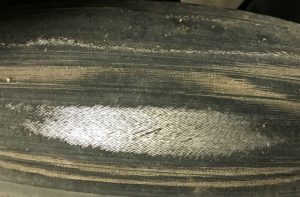 The Addams Family's Uncle Fester was famously bald. But he has nothing on some of the tyres that some of our testers come across.
This is one of a Nissan Qashqai's two front tyres. The other one was in a similar state. The tester told us that "in all my years in the trade I have never seen tyres as bad on a car."
The vehicle must have been driven for several months with the tyres in this state. Its stopping distance would have been hugely increased and its grip seriously reduced.
There would also have been a good chance of the tyre falling to pieces while being driven.
As if this wasn't scary enough, the car was fitted with two child seats!
Shocking springs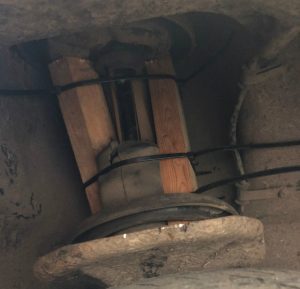 We all know that vampires can be killed with a wooden stake to the heart. But one motorist felt safe enough from vampires to use wooden stakes to replace one of his Mitsubishi Carisma's front coil springs.
Coil springs are a key part of the car's suspension system. They help the tyres remain in contact with the road to ensure the vehicle can steer and brake safely over a range of road surfaces. Two bits of wood held together with cable tie aren't a good replacement for a bespoke spring.
This car didn't get a chance to fail its MOT – the garage refused to test it on safety grounds.
Frightening filler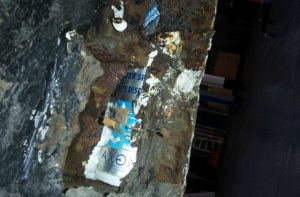 We can't always think of a horror connection, and this one's bad enough not to need one anyway.
We've all heard stories about too much filler being used in vehicle repairs. But general purpose sealant? And in this case they went the extra mile and put the container in too.
This was in the near side rear inner sill of a Ford Transit, converted to a camper van. The tester found a leaking diesel pump as well as a number of "holes bigger than my two hands in the chassis rails".
He was particularly worried about one spot. He told us "I could see it was rusty with a visual check, only lightly poked it with my finger and it crumbled". This then revealed the can.
Wayward wheels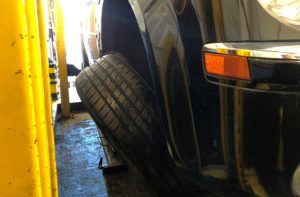 "Christine" was a car possessed by an evil spirit and had the ability to repair itself. That would certainly have come in handy in this case.
The vehicle was driven to its MOT at the national speed limit. The driver didn't know the ball joint on the top suspension arm had completely failed and the weight of the car was the only thing holding it together.
The tester got quite a shock to see what happened when it was put on an inspection ramp. It was even more of a shock to the motorist.
No damage done, this time
Of course, all of these problems were picked up before they caused an accident. These could so easily have been the cause of real horror stories, if it wasn't for the great work done by MOT testers across the country.
We'd also like to thank you all for sending us your horror stories. We've received almost 100 in just a few short days! We'll be putting out another horror stories blog in the next few weeks with some other stories that didn't make it in this time.