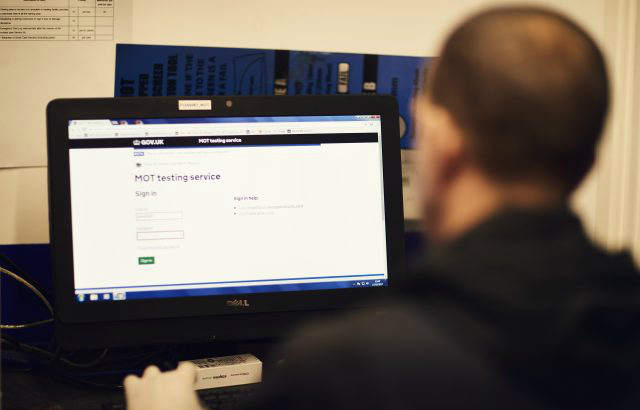 Every year, MOT testers do over 30 million MOT tests across Great Britain. We all have a part to play in maintaining and improving the standards of those tests - whether it's DVSA, MOT managers, MOT testers, or trade associations.
DVSA's priority is to help everyone keep their vehicle safe to drive. Making sure every MOT test is done to the right standard is one of the ways we can do that.
A new risk rating system
Like everything that involves people, things can sometimes go wrong with MOT tests. A defect might be missed, or it might be given the wrong defect category. And of course we do know that sometimes things aren't done right on purpose.
So we've improved our system that helps us spot the risk of these types of things happening regularly.
We'll assess every vehicle testing station (VTS) to consider its potential risk of non-compliance with the MOT testing service requirements, using a revised approach to risk rating.
A VTS rating is calculated from the testers who are testing at the VTS and any previous site review and disciplinary cases for that site. A tester's rating is calculated by analysing MOT data held within the MOT testing service computer system such as:
the time taken to complete tests
how many tests a tester carries out
the results of tests
The detail of how that will be calculated will change over time as we identify new trends and work to make sure poor testers can't manipulate the data to make themselves appear good.
So, in this new system, every tester and testing station will now have an individual risk rating. This will:
make it easy for you to know when you should look into something
allow us to support you if you need help
It also means we can target our enforcement action at the minority of testers and testing stations who are either persistently poor-performing or deliberately not following the standards.
How the system works
There are 3 risk ratings in the system - they're the same for testers and testing stations.
Like the previous rating, we've used the red, amber and green colour system for the ratings. But the names of the ratings aren't what's important - it's what you need to do that really matters.
The table below shows what this system means for testers.
| | | |
| --- | --- | --- |
| Risk rating | Type of risk | What to do |
| Red | Higher risk | You must look into the reasons you're rated as higher risk, and make sure you're testing to the right standard and following all the right processes. |
| Amber | Medium risk | You should look into the reasons you're rated as a medium risk, and check you're testing to the right standard and following all the right processes. |
| Green | Lower risk | You should still check you're testing to the right standard and following all the right processes. |
The rating is worked out from a number of different factors - MOT special notice 12-18 tells you more about how it works, so I won't repeat that here.
But I do want to be clear that if your risk rating is red or amber, it does not necessarily mean you're doing anything wrong. It means there are things you need to look into to satisfy yourself that you're testing to the right standard.
And as an MOT tester, your risk rating only appears to you and DVSA. Nobody else can see it, including your boss.
We've also made MOT test quality information available in the MOT testing service. This is data about the MOT tests you've carried out. You should use as a starting point to monitor your testing standards. You can also view your test logs.
We know all this data can be a bit daunting, so we recently published guidance to help you access, use and interpret MOT test quality information.
Management approach
As an MOT manager it's important you understand what is expected of you, and you'll already find guidance about this in the MOT testing guide.
Also, the following 5 points cover important areas that should help you make sure your garage is well run:
1. Management control
It is essential that the authorised examiner designated manager (AEDM) has management control of what happens in an MOT garage – as they have the day-to-day management responsibility on behalf of the authorised examiner (AE).
2. Premises and equipment
There are set down standards for premises and equipment. An AEDM is responsible for ensuring that those standards are met at all times – and there needs to be some systems in place for doing so.
3. Test standards
Make sure everyone has access to important information about processes and procedures, and regularly uses test logs and test quality information. And of course, this includes having an approach to the quality assurance of testers, as set out in the MOT testing guide.
4. Staffing and training
The AEDM needs to have good policies and procedures for employing staff, there also needs to be systems in place to ensure testers are completing in year training and passing their annual assessment on time.
5. General approach
Whilst the details of the management systems that a garage has are important, the culture that is nurtured is equally important, and consistently good quality MOT testing cannot be achieved without it.
Of course, culture is much harder to measure and to judge than some of the clear rules that we have, but it's still important.
We should strive for a clear positive quality culture – doing the job (MOT testing) right, is part of how the garage works.
What we'll do next
As with every change we make, we'll keep checking that it's working the way it's intended, and will make any tweaks that are needed.
We're going to publish improved guidance for MOT managers about managing the quality of MOT testing. This will expand on some of the points I've touched on in this blog post, and replace the existing risk reduction guide.
I want to finish as I started - with that big number.
Every year, you're doing over 30 million MOT tests. They play a vital part in making our roads safe. Together, we can make sure every single MOT test is done to the right standard, helping everyone stay safe on Britain's roads.
Find out more about using MOT test quality information, which includes the average age of vehicle tested, your failure rate, your site's failure rate, the national failure rate, and component failure rates.