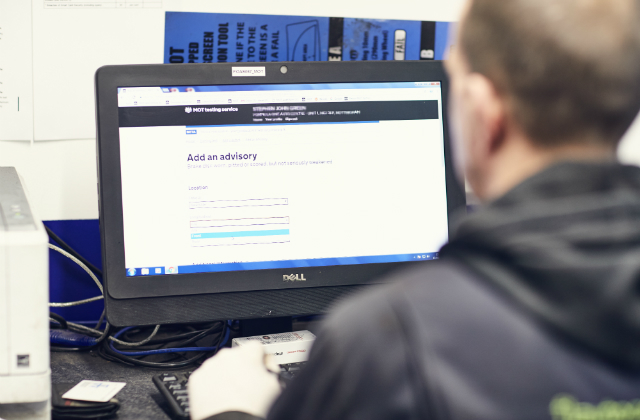 In our last Matters of Testing blog post, Neil Barlow talked about making a number of security improvements to the MOT testing service.
Keeping the data on the MOT testing service secure is a big priority for us and we want to reduce the risk of fraud.
As technology changes and improves, we need to make sure we keep up. To do this, we've focused on reducing how often you need to use your security card while improving other security measures.
Following comments from MOT testers and user research, we've made several changes to the testing service to make it more secure and easier to use.
Choosing the right password
We've found that lots of MOT testing service users have very simple passwords that aren't secure enough. This could compromise the integrity of the service, so we've made improvements to make sure passwords are more robust.
Users on the MOT testing service will need to start updating their passwords to make them more secure.
You'll be prompted with an on-screen message the next time you need to change your password change or use security questions to log in.
Your new password will need:
at least 8 characters
at least 1 number
a mixture of upper and lower case letters
You'll also need to choose a password you've not used before and certain common words are not allowed. You'll receive messages on-screen to help make sure your password and answers are secure enough.
So these changes don't cause too much disruption, we're bringing them in gradually.
Why security is so important
We know that having to come up with secure, strong passwords can be a pain, but it's really worthwhile to make sure the MOT testing service remains secure.
After all, the information stored there can be quite sensitive. And the possible risks involved in someone gaining access to your account don't bear thinking about.
It's entirely possible, for example, that someone could use your account to issue fraudulent MOT certificates if they managed to get access to it. This could not only mean potentially dangerous vehicles are allowed on the road, but could also damage your business and your reputation.
So it's essential that users make sure they do everything they can to make sure accounts remain as secure as possible.
We'll take disciplinary action against anyone who uses an account fraudulently.
Making working more convenient
It isn't all about making you jump through hoops, though!
We're updating the MOT testing service so you'll only have to use your security card to log in once per day. After that, you'll only need your username and password.
This will make logging in and out quicker, saving you time and effort, particularly if you have lots of vehicles to test.
If we notice any changes to the way you log in during the day, you'll be prompted to use your security card again.
Our aim is to make the system easier to use and to pave the way for more advanced security tracking in the future.
Event history
Some of you have noticed the new "event history" area on MTS.  We've introduced this new feature so you can see information relevant to you and your garage.
The information recorded there will include interactions with DVSA, like vehicle inspections carried out and site visit results.  Not all DVSA visits result in an event being recorded, and there may be no history showing if you haven't had any visits from DVSA yet.
We've introduced this in preparation for the new site review process we're planning to introduce later this year. The information in the "events history" area will help users understand their ratings.
We'll let you know how the garage review process is going in the next blog post.
Feedback
We'd love to hear what you think about these changes in the comments below. So please leave some feedback on how you think we can improve the MOT testing service.