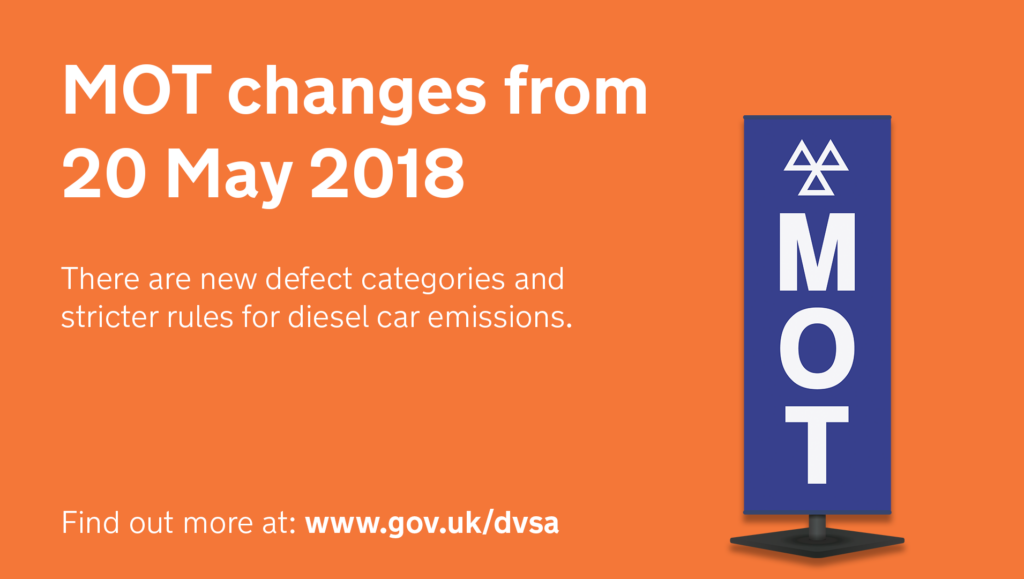 Today (20 April 2018) marks 1 month to go until the MOT changes come in on 20 May 2018.
I know most of you will be well prepared for the changes, and understand how they will work. However, there's been some misinterpretation in the media about how the new defect categories will work - particularly what will be classed as a dangerous defect.
So, I thought it would be helpful to give a bit more background on the defect categories – explaining what is and isn't changing.
The legal requirements
For a vehicle to be driven on Great Britain's roads there are 2 main legal safety requirements for the vehicle. It must be roadworthy and for most vehicles of a certain age, it must have a valid MOT. Whilst they're connected, they're not the same thing, and they both have to be met independently.
So, even if a vehicle is roadworthy, it may not necessarily have an MOT (it isn't automatic – it needs to go to a garage and get one!). And similarly, just because a vehicle has an MOT, it doesn't automatically mean it's roadworthy.  It may have a defect that has come about after the MOT.
I'd like to remind you that this won't be changing on 20 May 2018, vehicles will still need to meet these 2 requirements.
'Major' and 'dangerous' defects
Currently, a vehicle will either pass or fail its MOT. Testers can then mark defects they believe are dangerous, and make the vehicle owner aware.
From 20 May, the implementation of the new directive will pre-define what is considered as 'dangerous'. Defects that are failure items but aren't deemed as 'dangerous' will be called 'major' defects.
So, after 20 May, defects that are dangerous will be set out for you, and the new 'major' term introduced for all other failures.
What 'dangerous' defects will mean for motorists
Moving to pre-defined dangerous defects will bring consistency to what is recorded as dangerous. So, we've taken the opportunity to make the wording on the MOT failure documents clear in reminding motorists that driving a dangerous vehicle is illegal.
While the majority of your customers would never drive a dangerous vehicle until it's made safe, we know not everyone will behave responsibly. And, while it isn't your responsibility to try and physically stop them from driving the vehicle, it's important you provide them with clear advice that they do have dangerous defects.
This all applies whether the vehicle has a current MOT or not. A dangerous vehicle should never be driven on the road.
An early MOT will still be sensible
Some people have interpreted the changes to mean that a vehicle shouldn't be brought in for an MOT early. This isn't true.
We'll still encourage motorists to not leave their MOT until expiry, as leaving it late increases the risk of the vehicle being used without an MOT or being unroadworthy.
'Minor' defects and advisories
The other new category from 20 May is 'minor'. This is where there's a defect on the vehicle – but it isn't serious enough for the vehicle to fail. Like the major and dangerous defects, they are also pre-defined for you.
And, like the current MOT test, we'll still have advisories. These are very similar to minor defects but rather than a component already being defective, they indicate a component will become defective soon.
Recording defects
We've also made changes to the online MOT testing service to try and make it simple for garages to record the new defect types after 20 May.
For most defect areas (for example tyre tread depth) the defect is considered as only one level of severity (major or dangerous). The tester will just pick that the defect is present, and the MOT testing service will automatically include the level (major or dangerous) in the result.
However, for some defect areas (for example, hydraulic brake fluid leaks) there might be defects at more than one level, based on the severity of the defect. Where that's the case, the wording of the defect describes the difference between major or dangerous.
You should assess which set of words the defect on the vehicle best matches. Then, the MOT testing service will automatically include the level (major or dangerous) in the result.
Launching a training environment
As we mentioned in my previous blog post (Services we're working on), we're launching a training environment (or prototype area) into the MOT testing service with the post 20 May changes in place.  We'll let you know when it's available.
I'd encourage you to have a look at this when you're logged into your profile before these changes come into effect.
Finally, if you do see any stories with incorrect information on the changes, please let us know in the comments below.