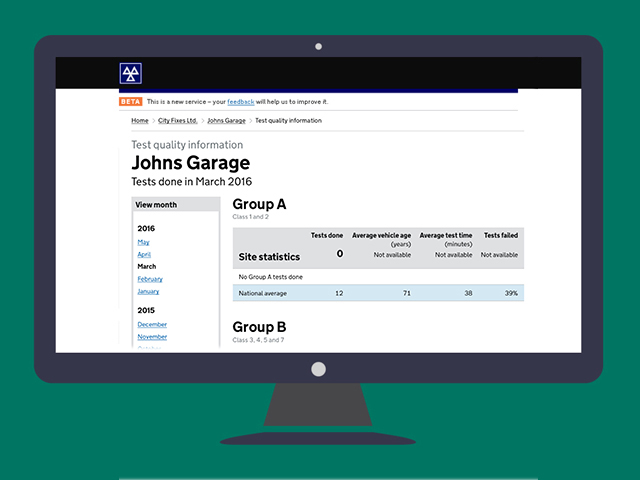 Everyone who uses the MOT testing service can now access test quality information (TQI). You'll find useful statistics about how many tests your garage has done, how long your tests take and what your testers tend to fail vehicles on. You'll be able to compare all this information against the national average.
Authorised Examiners (AEs) and site managers will be able to use this to monitor and improve the standard of testing at their sites.
What information is available?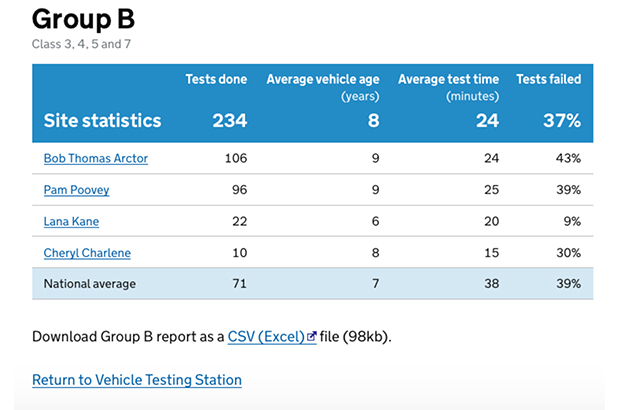 You'll be able to see statistics about your Vehicle Testing Station (VTS) including the:
number of MOT tests carried out
average age of vehicles tested
average test time
percentage of vehicles failed
You'll be able to compare all your results against the national average. There'll also be a breakdown of tester's failures by component category and the national failure rate for those components.
You'll only find the information for the classes of vehicle that your VTS tests. So if your VTS only test classes 1 and 2 vehicles then you'll only see information for those classes. If you test all classes of vehicles then you'll see information for all classes.
The information displayed only includes the results of initial MOT tests and doesn't include any re-tests or cancelled tests. MOT tests that have been recorded as a pass with rectification (PRS) will be classed as failing the initial test.
You'll be able to download a copy of all this data.
How AEs can use this information
TQI will help you manage the quality of testing at your facility. How you use it will depend on how you manage the site, its size and number of staff, etc.
You should review this information regularly and look into any unusual differences in the data; documenting the outcome of any investigation you've undertaken and what action you took. An example could be if a tester's fail rate for a component category is 20% and the national failure rate is 8%.
In this case, you could organise quality control checks on failed tests where the tester has failed components within that category. You could check the tester's understanding of the pass/fail criteria then record your findings.
It's important to show that you're reviewing, understanding and acting on the information found on the system.
How DVSA will use this information
DVSA's vehicle examiners will look at this information before they visit a VTS. During a site assessment, they'll look for evidence of any action taken by AEs where they find unusual differences in the data.
As there could be valid reasons why a testers fail rate is unusually high or low vehicle examiners will look at all the facts before taking any action.
Your feedback
We've received some feedback asking why the component fail rate is higher when shown in TQI than when it was shown in the MOT comp as a Scheme Performance Report (SPR).

This is because TQI uses the number of failed initial tests as part of the calculation, whereas SPR used the total number of initial tests (passes and fails) to calculate the rate.
We've also received feedback that some of you can't effectively use TQI to compare testers fail rates as your testers carry out differing numbers of tests per month.
We're planning to review how this information is presented as we want to make sure it benefits users and contributes to improving the quality of the MOT test.
Please keep sending us your comments and suggestions about the MOT testing service, as it's only with your feedback that we can introduce things to the service that you want to see.
Let us know in the comments below or send your feedback about the MOT testing service to MOT@vosa.gsi.gov.uk.
This article was updated on 29/11/2016 to include your feedback on TQI.