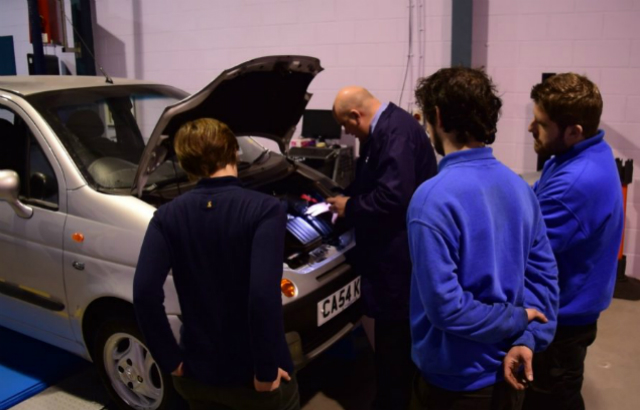 So, the first year of annual MOT training came to an end in April and was a big success. I'm delighted to see over 99% of you completed your MOT annual assessment. A massive well done to you all!

In this blog, I'll look at this year's plans and address some of your concerns.
Raising the standard
One of the things we're doing this year is increasing the pass mark for the annual assessment. Last year, the pass mark was 50%, to allow you to get used to the new way of training.
Most of you scored more than 80% with only 1% of you failing the assessment. We've now increased the pass mark to 60% for 2017 to 2018 and over the next few years, we'll look to increase it to 80%.
New topics for 2017 to 2018
The new topics for you to study are based on the most common faults from last years testing. We've split them into the different vehicle classes - class 1 and 2 (group A) and class 3, 4, 5 and 7 (group B).
For class 1 and 2 vehicles (motorcycles), the syllabus covers:
body and structure (including security)

assessment of tyres and wheels
For class 3, 4, 5 and 7 vehicles (cars and other vehicles), the syllabus covers:
assessment of tyres and wheels

corrosion assessment (includes assessment of brake pipes)
You'll need to record any training you do for these topics in your training record, which should show what you've learnt and what you'll do differently after the training. This includes keeping any certificates you receive from your training provider as evidence.
You'll need to make sure you keep this record safe, so you can show our vehicle examiners if they ask to see it.
Listening to you
So, although the assessment has mainly been successful, we've listened to your feedback and there's a few things we think need improving.
Making the questions clearer
We're aware there have been a few instances where the questions in the assessment could've been clearer.
We've made sure the questions are better written this year and have set up a new process to check all of them before they're included in the assessment.
Providing more feedback
Some of you were also concerned about the level of feedback you were given when you had completed the assessment. You wanted to know what you did wrong and where to improve. 
We passed this information onto the awarding organisations, and they've agreed to provide more feedback this year, so, you'll know what areas you'll need to improve on. However, they're not allowed to tell you the exact answers to questions - this is to stop anyone sharing them.
Keeping up to date
We've also received comments from some of you saying you preferred the old way of training, because it gave you chance to get together and discuss things with other testers. We'd still encourage you to do this, and we think that you'll always benefit from sharing your experience and knowledge with other testers.
However, we're still confident the new way of training has a number of advantages, such as being able to regularly assess the standard of the industry and quickly address any problems that arise.
The new way of training also means you can keep up to speed with any changes to the MOT. Think of all the changes that have happened in the last 5 years: a brand new cloud-based MOT service, a new way of testing headlamp aim and a new MOT security card to name a few.
Recording your results
Once you've completed your annual assessment, a certificate will be emailed to you from the Awarding Organisation with your score. You'll need to remember to enter onto the MOT Testing Service.
So, good luck with your training for the year ahead, I'm sure we'll have another successful year!
Need more information?
For more information, check out our MOT training guidance.