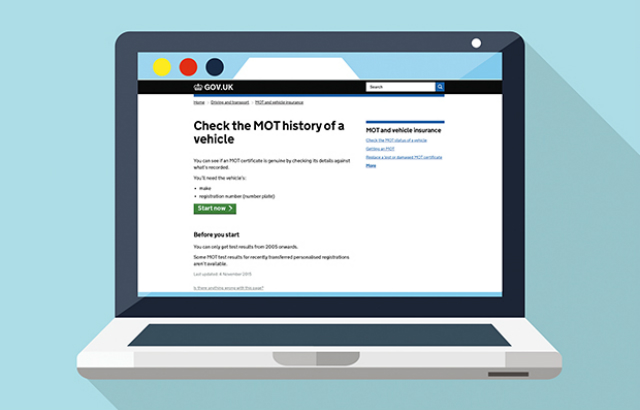 You told us you wanted to know more about what we're adding to the MOT testing service and what happens when it's taken offline in the evenings.
So, this will be the first in a series of regular blogs that looks at what we've been working on behind the scenes.
Improving test quality information
Over the last fortnight, we've been doing a lot of work to improve the 'test quality information' on the MOT testing service.
This is information we provide to try and help focus garage managers and testers on where to be vigilant in their work. It's vital we get this right as helping garages manage the quality of MOT testing is really important for all of us.
Since we introduced this feature, you've sent us a lot of feedback on how to improve it. So, we've listened to what you've said and done more in-depth research in garages to understand how we can make it better.
We've been busy processing the research findings and have built some prototypes to test. We'll update you on this in the next one of these blogs!
Working on 'Check the MOT History of a vehicle'
At the same time, we've also been carrying out similar work on the 'Check the MOT History of a vehicle' service. This service now has over 700,000 people using it a month!
This includes people checking when their MOT is due and the history of cars they're thinking of buying as well as traders and others building up a picture of a car's history.
We want to make the service even better and we're already working on ideas from the feedback we've received, including adding basic garage details to the history. So, again, we're working through the process of researching, building prototypes and releasing improvements.
Keeping the MOT testing service running
As well as the big changes you get to see, we're constantly carrying out work behind the scenes that helps keep the service running.
At the end of June, we briefly took the service down for a short while to introduce a software upgrade. This made sure that the latest versions of software were being used.
We've also been improving the back-end systems which are involved with payment processing. We know the card payments service still isn't as reliable as it should be and this change will help us move towards making this much better.
Doing this type of work helps to make sure the service is always up to date.
Correcting duplicate vehicle data
This is something that happens from time to time when vehicles are misidentified at test. Every few months we match the data up and tidy it to make sure our records are accurate.
Improving security
Last Wednesday (28 June), we reduced the amount of time that you can stay logged into the service whilst you're not actively using it. This will help keep your account and the MOT testing service secure at all times.
We've had some feedback from some of you, saying that we haven't got this quite right - particularly for those of you who use a tablet and record the result as you go. We're looking at this again and welcome your feedback.
Looking ahead
I hope this has given you an overview of the work that has been taking place.
I'll update you again soon on how this is all going, but in the meantime, please share any feedback or thoughts in the comments below.