After listening to your feedback we've made it easier for you to get contingency codes if the MOT testing service goes offline.
Until now, if the service has been unavailable, you've had to take time out to contact DVSA to get a code and carry on testing.
However, we've now introduced a way that you can instantly pick up the latest code if you try to sign in to the service and it's not working.
Instantly available
So, instead of having to call us to get that day's code you'll immediately be directed to a fall-over page where it'll be published on the screen in front of you.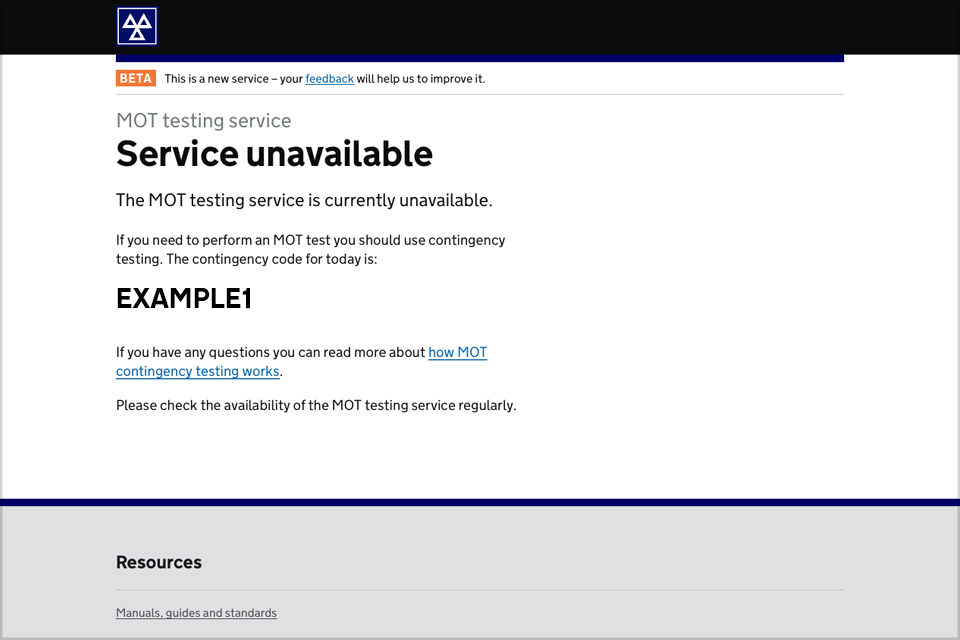 You'll only be able to see the code if the service is down due to a planned or unplanned outage. This means if you're not able to access the service for any other reason (eg. your individual broadband connection or computer is broken), you won't see the contingency code.
IT responsibilities
As outlined in MOT special notice 06-14 and since the switch over to the MOT testing service, you're now responsible for getting your IT equipment fixed if it stops working, so you can carry on testing.
If at any point you're unsure about whether you can legitimately use contingency testing then you can always check by calling our MOT testing service desk on:
0330 123 5654 (8am to 8pm Monday to Friday and 8am to 2pm Saturday - excluding public holidays)
We'll then consider your situation on a case-by-case basis and issue a code if you meet our contingency testing criteria.
Contingency measures
Remember, you won't be able to use contingency testing if the reason you can't access the MOT testing service is down to your own IT equipment or services.
Instead, you'll have to stop testing until everything has been repaired or replaced.
If you want to, you can avoid this situation by putting your own contingency measures in place.
For example, you could make sure you have a back-up 3G or 4G internet connection in place or have a spare laptop on site to temporarily replace your broken broadband or PC.
To find out more about what when you can't access the MOT testing service read our MOT testing service: contingency testing guidance on GOV.UK.