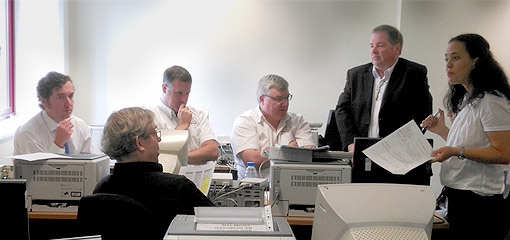 The first meetings of a partnership working group have taken place, aiming to professionalise the roles of MOT managers and testers.
The Sector Skills Council for the automotive retail industry and DVSA's MOT Training Education and Skills Support (MTESS) team are developing National Occupational Standards. They met last month at venues in England, Scotland and Wales with representatives from the MOT trade to discuss specific skills and knowledge for MOT managers and testers.
Other organisations involved in developing these standards include the Retail Motor Industry Federation, ABC Awards, City and Guilds, Institute of the Motor Industry (IMI) and education company Pearson.
"We're very lucky to have such a broad range of experience to draw on," said Dave Easton, who is leading the MTESS team. "The expertise of the MOT trade has proved invaluable to developing these standards, and the Sector Skills Council has led the way in pulling together a range of people with different backgrounds and concerns to produce what we believe will be a solid platform for the new MOT tester and AE qualifications.
"This is the first, crucial step towards modernising the roles of MOT managers and testers."
Once the draft standards are ready, the Sector Skills Council will make a copy available on their website where the wider trade can take a look and feed back their thoughts. The final standards will be used by training providers to develop modern MOT managers and tester qualifications.
Find out more about MTESS.
Contact MTESS@vosa.gov.uk if you have any questions or comments about professionalising the roles of MOT managers and testers.