Everyone involved in the MOT industry - this includes DVSA, garage operators, testers, and trade associations - has a part to play in maintaining testing standards.
The work we all do forms how we manage the quality of MOT testing. By working together we're all making sure that the vehicles on our roads are safe.
I know that there's more we can do to provide better guidance on what 'good' quality management can look like.
We'll be publishing more on GOV.UK this spring. But ahead of that, I thought it would be helpful to talk about some of the principles of good quality management and get your opinion on them.
Improving the quality of MOT tests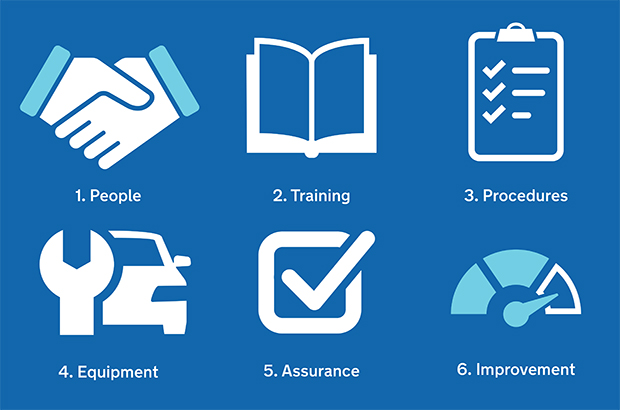 An important part of authorised examiners' and site managers' roles are around managing the quality of MOTs.
There are a number of ways we can all contribute to improving the quality of MOT tests. The main ones are making sure that there's processes in place that cover these things.
1. People
Recruitment policies, probation criteria, policies around what action you take when you do find quality failings.
2. Training
Making sure all your staff fully understand their responsibilities and what's expected of them so they can do their job properly and stay compliant with training and assessment requirements.
3. Procedures
Making sure that everyone has access to key information, test logs and test quality information.
4. Equipment
Making sure that everyone knows procedures for upkeep and calibration, that records are kept and that there are clear processes for when things go wrong.
5. Assurance
Checking MOTs have the correct result, security of passwords and reducing the risks of MOT fraud.
This could be quality checks done within your team, something you buy in from a 'consultant', or even an arrangement you have with nearby garages for mutual checks.
6. Improvement
Developing a quality culture with continuous improvement.
More guidance coming soon
We'll provide more guidance for all these areas – but if you think something is missing from the list or any that you want us to prioritise, tell us in the comments.
One size doesn't fit all

Some garages will have been refining these types of process for years. So none of this should really be new, and you might just do it without thinking about it.
But it isn't always easy to get right, and we need to see quality management as more than just ticking a box.
How you implement these processes will depend on all sorts of things, such as the size of your business, number of staff, and type of customers. 
But however you go about implementing it, having in place a system that covers these key areas will help make sure that your garage is constantly improving and delivering a consistent service to your customers.
Keep up to date
We send emails to all users of the service that let you know when the service is unavailable, what's been added to the service and also to get your feedback on things - you also probably got one letting you know that this blog was published.
It's important that you get the latest updates from us, so please check that your email address on the MOT testing service is correct.
You should also regularly check your junk or spam folder in case our emails are going there by mistake.