UPDATED: Tuesday 18 August 
We've refreshed the Beat the Rush toolkit. It now includes updated social media posts, and new graphics including a motorcycle.
Please see below.
Millions more customers will need MOT tests this autumn – double as many as usual.
Motorists were granted MOT exemptions for their vehicles from 30 March until 1 August.
Those exemptions will begin to expire in autumn, which is usually the busiest period for MOTs.
Alongside your normal MOT customers for this time of year, there will be many more wanting to get tests as their exemptions expire.
Are you ready for the rush?
Demand for tests will peak in October and November, but September and December will also be very busy. We're currently predicting that August will be quieter than usual.
That means we may be able to persuade drivers to get their MOT test early. This will give them peace of mind that their vehicle is safe and roadworthy, and will mean they beat the rush in autumn.
For garages, this approach will help you to manage demand and make sure you can meet your customer's needs during a very busy period.
But we can only do this with your help.
Working together: free toolkit for communicating with your customers
We know that 52% of MOT customers will come to you, at your garage, if they have questions about their MOT.
So, we've created some materials for you to use to encourage your customers to think about booking their MOT early.
We've put together a toolkit for you. It includes draft messages for social media, for customer emails or texts, and graphics you can add to your posts, messages or website.
The toolkit includes information about the campaign, and some key messages which you can use to start a conversation with customers.
The Driver and Vehicle Standards Agency (DVSA) will be taking part too – we'll be messaging customers who have signed up to the MOT reminder if service if their MOT is due in autumn, and we'll encourage them to get it done early. We'll be posting on social media and speaking to the national press to get media coverage.
By working together, we can manage the unprecedented demand for MOTs which will start to peak as more and more customers try to get their vehicles tested from September onwards.
We hope this is useful to you. Of course, you don't have to use the materials we've drafted if you'd prefer to write your own. We just wanted to provide some material to help you plan for this extremely challenging period.
When is this happening?
The Beat the Rush campaign will begin on 31 July 2020, to coincide with the end of MOT exemptions on 1 August.
Throughout August, the campaign will encourage motorists to move their MOT forward and avoid getting their MOT done during the busy period this autumn.
3 easy steps to get involved with our campaign
Download the toolkit and images below
Use the templates for social media, email or text messages to your customers – or create your own
Keep an eye on your emails as we will contact you as the campaign progresses
Here's the Beat the Rush - Campaign Toolkit (click link to download)
Images
You are free to use these images for your communications - just right click on them and save them to a drive on your computer.
Email and web banner:

Facebook images: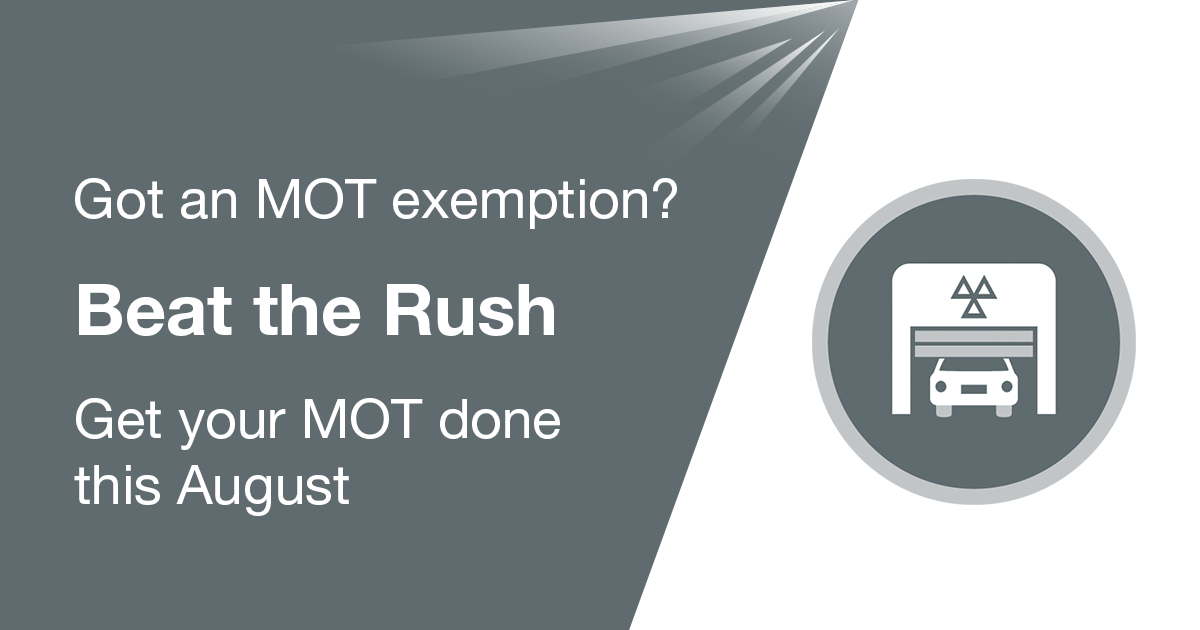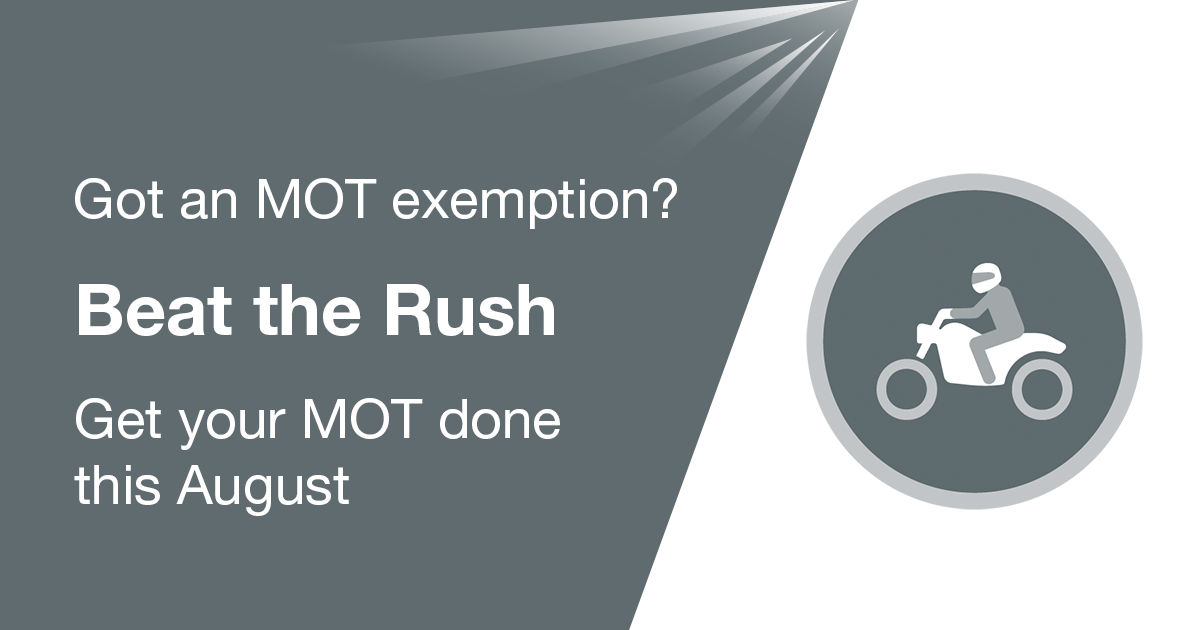 Twitter images: