We launched the Beat the Rush campaign on July 31 to encourage motorists with an MOT exemption until autumn to get their vehicle tested this summer.
Working with leading industry organisations, we created the campaign to help reduce the burden on MOT garages in October and November, when demand for tests will be much higher than usual. You can read more about the campaign in our previous blog post.
We know August has been busy for MOT garages, and our figures so far show around 20,000 more MOT tests a day have been conducted than at the same time last year.
Getting the message out on social media
To help garages, we created a toolkit containing social media messages, images and emails for customers.
In these unprecedented times, garages up and down the country are using these materials on their social media accounts to help manage demand by encouraging their customers with an MOT exemption to bring their test forward.
We're refreshing the toolkit and this will be updated shortly. We will write to garages to let them know when this is available.
So far, here are just some examples of social media posts we've seen using the toolkit in different ways: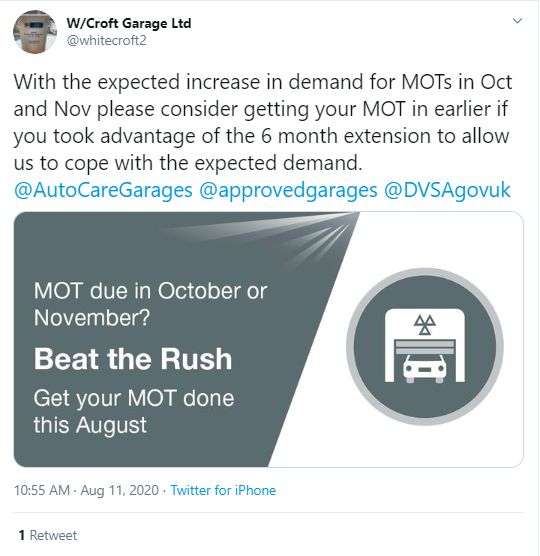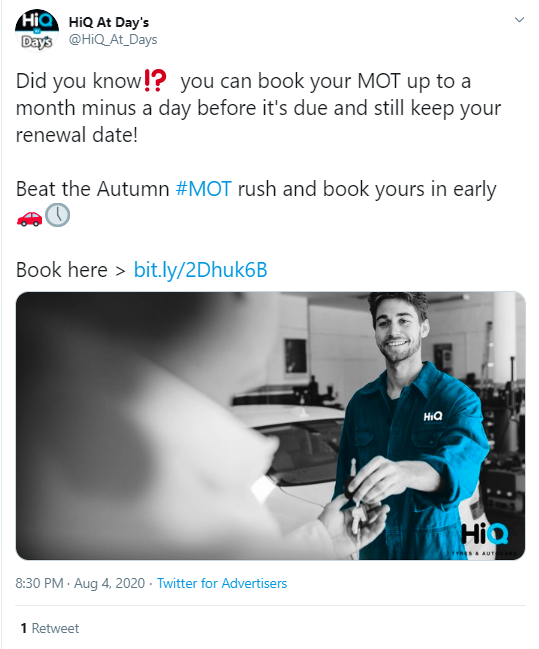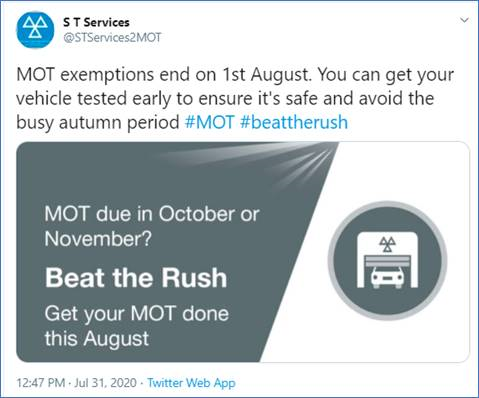 Working together to Beat the Rush
The Independent Garage Association (IGA) is among the industry bodies supporting Beat the Rush.
Stuart James, chief executive officer of the IGA, said: "The Independent Garage Association supports DVSA's Beat the Rush MOT campaign.
"MOT slots will be more difficult to book in the next few months, so we recommend that garages communicate this to their customers and advise them to book their MOT at their earliest convenience.
"Independents will rise to the challenge to address the demand for MOTs and ensure vehicle safety. It will be an opportunity to increase their customer base for future years if they can satisfy wider customer demand at this challenging time."
Sue Robinson, director of the National Franchised Dealers Association, added: "The National Franchised Dealers Association understands the value of the Beat the Rush MOT campaign and it supports the DVSA's efforts to raise awareness on this matter.
"Franchised dealers have the capability and capacity to meet increases in demand for MOTs.
"The NFDA encourages customers to book at the earliest opportunity. This is in order to avoid inconveniences that could arise when booking later this year as availability of MOT slots reduces."
Next steps
We will continue to use press and social media to get the Beat the Rush message out to motorists throughout August.