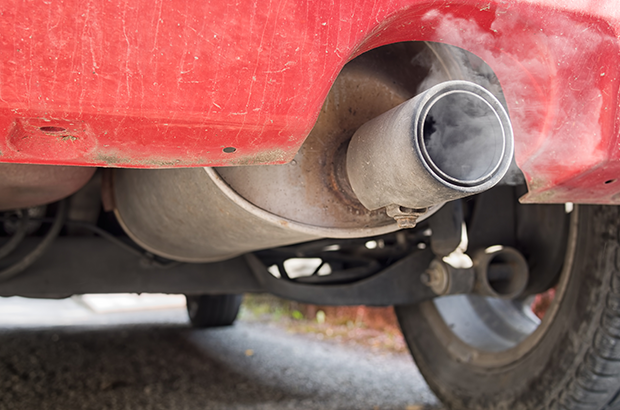 Since February 2014, when an MOT tester inspects a diesel vehicle's exhaust system they have to check if there's a diesel particulate filter. Diesel particulate filters are important in maintaining acceptable levels of air quality.
How do diesel particulate filters work?

Diesel particulate filters trap particulate matter, like soot, from exhaust gases. They've been used for more than 20 years and have been fitted on all diesel vehicles since 2013, as part of the Euro 5 emissions standard.
If they're not filtered out, diesel particulates pollute our air and can damage our health, so these filters are vital in keeping our air clean and protecting us from pollution.
Removing diesel particulate filters
There are 2 main reasons that some people might want to remove a vehicle's diesel particulate filter.
1. Performance
Some garages claim removing a vehicle's diesel particulate filter will improve its performance and make it more economical to run.
2. Cost
Some garages also claim that removing the particulate filter is cheaper than replacing an old blocked up filter with a new one.

However, it's illegal to drive a vehicle that's been modified in that way.
MOT 'friendly' removals
Our enforcement team recently investigated 2 linked companies, who were offering to remove diesel particulate filters from vehicles - describing their services as being "MOT friendly" and "hard to notice".
Both companies regularly recommended each other on social media, but claimed to our investigators they had no official relationship, despite sharing the same address, staff and directors!
As a result of our investigation, we found the directors of the diesel particulate filter removal company were authorised testers. These MOT testers were banned from conducting MOT tests for 2 years and the owner of the MOT station was banned for 28 days.
Serious consequences for testers and garages
The bans give a clear message about the importance of maintaining the integrity of the MOT. Remember, the consequences of turning a blind eye to a missing diesel particulate filter (or worse, actively taking part in their removal) can be serious for an MOT tester.

A vehicle that needs a particulate filter and doesn't have one should fail its MOT. If you pass it knowing that it doesn't have one, you're harming the environment and committing fraud.
Fines for drivers
For drivers, the penalty for driving a vehicle with the diesel particulate filter removed, are fines of up to £1,000 for a car or £2,500 for a light goods vehicle.   
Undeclared illegal modifications (like removing a diesel particulate filter) could also invalidate a vehicle's insurance, so it's not just garages who could face serious consequences.
Maintaining integrity
During 2016 to 2017, we issued 761 warnings or disqualifications to MOT garages or testers who carried out improper tests, putting all road users at risk. That's a tiny proportion of the 60,000 or more MOT testers in Britain.
We know the vast majority of you wouldn't ever consider making modifications to cars that make them unsafe – and illegal – to drive. It goes against everything the MOT stands for, and as MOT testers, you're at the forefront of making sure the MOT's integrity is maintained.