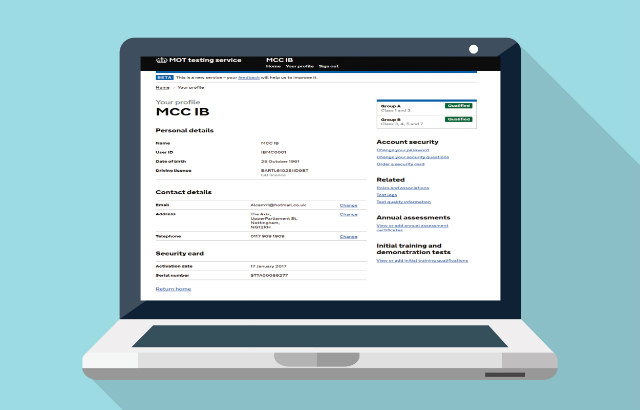 The second year of annual MOT training and assessment (2017 to 2018) closed in March. It's great to see most of you completed it and recorded your results in time - thank you to everyone who did this.
But, some testers either didn't complete the training in time or forgot to record their results before the March deadline which meant they were suspended from testing.
To put these testers back on the system again our staff had to carry out important checks to verify their assessment certificates. This is a long process and it meant some testers were having to wait more than a week to be switched back on.
Also, testers who had missed the deadline had to complete the training and assessment, and record their score, and then had to wait a considerable length of time to get a demonstration test. They needed to do this to get switched back on.
I know this can be frustrating to you and your business, so I wanted to give you some tips in this blog post to make sure this doesn't happen to you. I also wanted to let you know what the training topics for this year will be.
Topics for 2018 to 2019
We chose the topics for this year's assessment based on what we think testers need to become familiar. Some of you also told us you'd like to know more about testing electric and hybrid vehicles, so this is something we included too.
The topics for group A and B are:
The additional topic for group B will be testing vehicles with alternative propulsion systems, such as hybrids and electric vehicles.
The pass mark will stay at 70% and from this year, and you'll also need to add your user ID and your date of birth into the MOT testing service.
Keep a training log
To pass the annual training and assessment you must keep a training log. Keeping this is one of the best ways to make sure you don't forget to complete your annual assessment! You can keep your training log electronically or in paper format. It needs to show:
the MOT annual training year (for example, April 2018 to March 2019)
the date of the training
how long the training session lasted
what topics you covered during the session
notes on what you did, how you did it and what you learned
what vehicle groups your training covered
your name and MOT testing service user ID
You can use the template to record your training, or you can make your own.
Have your assessment result uploaded automatically
If you complete your annual assessment with either the Institute of the Motor Industry (IMI) or ABC Awards, your result will automatically upload into your MOT testing service profile. You won't need to do it manually. This is a great way to make sure you don't miss uploading your result in time for the deadline.
To do this, you need to include your date of birth and your MOT testing service user ID when you complete your assessment. If you don't put in these details, we cannot verify your identity and your result won't upload automatically.
Don't forget to maintain your status to test
You won't be able to do your testing on time if you've lost your status to test. To keep this status, you'll need to carry out a test once every 6 months. The MOT testing service records the status of testers so you don't need to tell us.
However, if your status to test has lapsed, you'll need to follow the process to return to MOT testing.
In summary….
We know that fitting your training and assessment studying into your working week can be quite a challenge, but the earlier you can do this, the better.
Because the close of last year's annual assessment coincided with the Easter bank holiday, some testers' annual assessment results were not uploaded in time to meet the cut-off date even though they had done it in time. This year, Easter won't fall on the cut-off date so you shouldn't find yourself in this situation again.
I hope this blog post has reminded you of some good practice tips to make sure you get your training and assessment completed on time. If you've got any other good ways of remembering to complete your assessment on time, please share them in the comments. Good luck!
And finally
This will be my last blog post as I am retiring. Thank you for your comments over the years, which really help us to make the service better. Simon Smith will be taking over my role and will be answering your comments.