When the owner of this vehicle dropped it off with Martin, at Discount Tyres in Sittingbourne for its MOT, they mentioned a noise which had been coming from the front of the vehicle when braking.
Martin offered to carry out an inspection of the brakes but the owner declined and asked only for the MOT to be done.
When driving the vehicle in for test, Martin noticed the ABS light was on. When carrying out the underside inspection, he couldn't see a brake disc on the nearside front, so decided to abandon the test.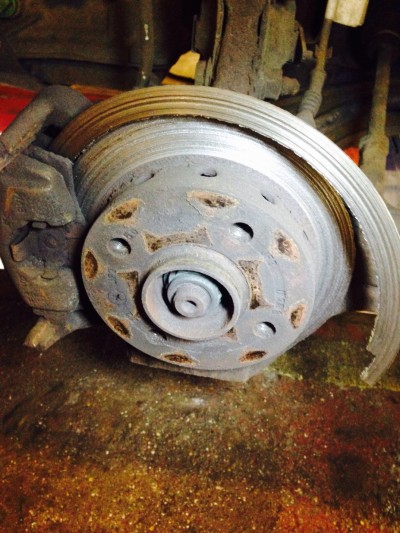 Martin abandoned the test as he felt it wasn't possible to complete all aspects safely. A decision we can't argue with. Obviously in situations like this, conducting a brake test would be out of the question.
If the rest of the test can be completed, without risk of further damage or injury, then the reason for rejection 'Item not tested' (RfR 3.7A1), could be used to fail the vehicle, along with a note that a brake test was not conducted.
Luckily this owner made it to their MOT before suffering more serious consequences.