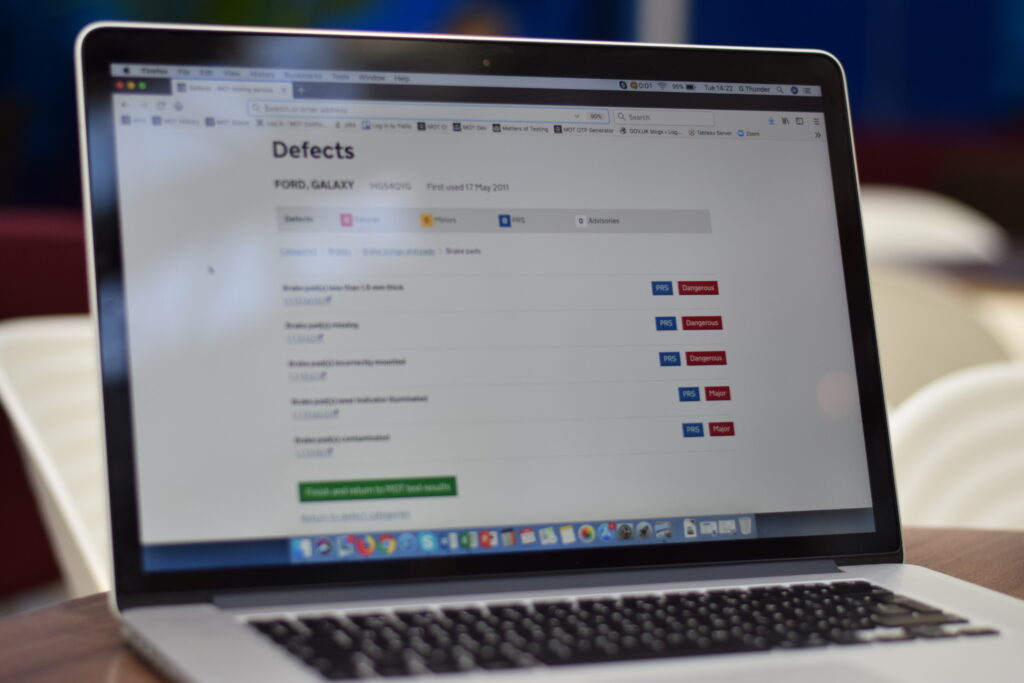 In my latest update, I'd like to explain some of the changes the team will be working on over the next few weeks, including changes to the MOT testing service helpdesk and the new inspection manual.
MOT testing service desk
In December, we told you that from January 2018, the MOT testing service helpdesk will become part of DVSA's call centre. Before this took place, it wasn't run by DVSA, so we couldn't put calls through between the helpdesk and our standards team and often we found you had queries for both.
Now if you call the MOT testing service helpdesk and you have a follow-up technical testing question, they can transfer you to the MOT standards team.
This is part of the on-going work we're doing to join these 2 services, and make it easier for you to get MOT testing support and advice.
Once we've trained more of our staff to answer all types of questions, we'll look at whether merging the 2 phone numbers is possible and would improve the service for you.
Roadworthiness directive implementation
It's been really good to see that you've been engaging with the changes we'll be making as part of the roadworthiness directive, and giving us feedback on some of our ideas.
Your feedback is essential and will help us make sure we make any necessary changes.
New inspection manual
As you know, the roadworthiness directive means we're making substantial changes to the inspection manual.
We recently published the latest draft of the manual on GOV.UK. Although it won't come into effect until 20 May 2018, I want to make sure you can start getting to know what's in it and what's changing. It'd be great to hear your feedback on it, so please let us know if there are any areas we can improve.
Finding the right failure reasons
You may have noticed from the new manual that while the content of the MOT isn't changing much, there'll be quite a few changes on how we word MOT failure reasons.
It's important that we make it as easy as possible to find the correct failure reasons within the MOT testing service, as they might be worded or organised differently to before.
So, we've been doing a lot of testing of prototypes with testers and I'm really pleased with how this has gone so far. It's helped us understand how we can make the service easier to use and defects quicker to find. We'll continue doing more user testing over the next few weeks.
Vehicles of historic interest and first date of MOT
The Department for Transport (DfT) has now published the definitions for the rolling 40-year exemption for vehicles of historic interest, and what modifications are acceptable.
They intend that the exemption from MOT for vehicles of historic interest will be administered through the vehicle tax renewal process. It'll be up to the owners to declare whether their vehicle meets these requirements (if it's of valid age).
DfT also announced the results of the consultation on the first test date for cars this week, which will be staying at 3 years.
Safety recalls
Before Christmas, we made a really big update to the 'Check the MOT history of a vehicle' service, so you can now check if there's any outstanding recalls on a vehicle.
This will not only help members of the public who want to check the safety of their own vehicle but the motor trade industry too. It means they'll be able to check the safety and legality of the vehicles they're selling.
In December there were 300,000 checks of the service. And, around 25,000 of these checks showed there was still outstanding safety recalls on the vehicle. We'll be monitoring this, to see if it improves how quickly these outstanding recalls are dealt with.
Approvals process
Over the next few weeks, we'll be working on improvements to some of the administrative processes around garage and tester approvals.
In November, the processing of approvals moved to a centralised team. Since then, we've recognised that we need to improve some of the processes to make sure we can provide the service needed.
Thanks for your patience on this. I'd like to reassure you that the teams at Chadderton are working hard to work through backlogs of approvals for new or changed sites.
Looking ahead
Over the next few weeks, we'll be working on our revised approach to risk rating and the implementation of the roadworthiness directive, which I'll blog more about soon.
Following some research we did last year, we've finalised the design of the new test pass/fail documentation. It includes more helpful information for motorists on the severity of defects. We're now getting into the 'development' stage so we can switch to the new design as soon as possible. We're hoping this will be in April.
As always, please let us know your feedback in the comments.