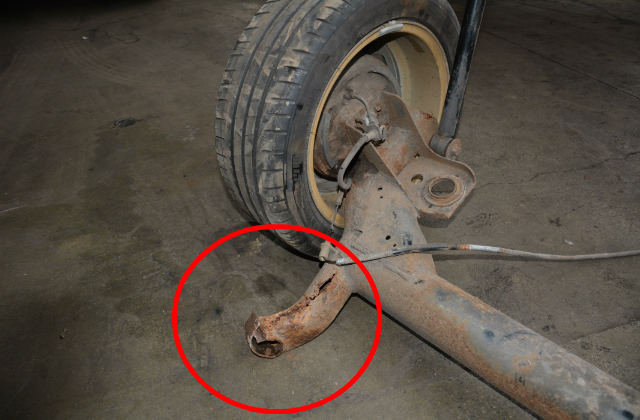 Corrosion is a common problem we're sure you're all aware of. It can make vehicles extremely dangerous to drive and in some cases can cause a vehicle to fall apart while it's being driven.
Last year, a woman was killed when the car she was travelling in swerved out of control and into a parked vehicle after its rear axle fell off.
The picture above shows how badly corroded one of the axle's radius arms was when the car crashed. The other arm was just as bad.
The corrosion on the radius arms may not have been detectable when the car had its last MOT. But if it was, and it had been detected, it might've saved her life.
This really highlights the importance of checking for corrosion - particularly in older vehicles.
Being thorough
Although this is an extreme example, it shows how deadly corrosion can be if it isn't found.
The location of the corrosion on the radius arm mounting would've made it very difficult to find. The tester would've needed to make an extra effort to get underneath the car and inspect the affected parts to find it.
But, if they had, it could have potentially saved someone's life.
We know the majority of you always take the extra time to check the safety-critical parts of a vehicle for corrosion, but it's not always easy to find.
So, we've put together some tips to help you with this in the future.
Don't just give it a quick look
The first step is finding the corrosion. Sometimes, the corrosion is so obvious you can see it straight away. But, sometimes it isn't.
You should inspect the vehicle visually and use your fingers to inspect any parts you can't see.
If you find any corrosion, you should put pressure on it using your finger and thumb to see if it crumbles, or if the area feels weakened.
If you need to, you can use a corrosion assessment tool to tap or scrape the affected area.
Does the corrosion affect vehicle safety?
If you find corrosion that seriously reduces the strength of a highly stressed component, you'll need to fail the vehicle.
You should also fail the vehicle if you find any structural weakness or holes caused by corrosion in a prescribed area, such as:
steering
suspension
brakes
seat belts
If the corrosion isn't in a prescribed area, you need to check whether any load bearing part is corroded enough to affect the braking or steering.
If it isn't, you should pass the vehicle and advise the customer what they should to do to fix the corroded part.
Dealing with repairs
If there's been a repair to a damaged or corroded area, you should assess if the repair is suitable.
You need to check if:
suitable materials have been used
the plating and welding is attached to a load bearing part
the repair appears to be as strong as the original structure
Sometimes it can be difficult to assess the repair, especially if it's been painted or undersealed. If you're in any doubt, you should pass and advise.
Making the difference
The work you do as MOT testers do is vital for keeping Britain's roads safe. Our latest MOT Horror stories blog post is a great example of the types of things you've found and prevented potentially causing a dangerous accident.
So, next time you're testing a vehicle, go the extra mile to make sure it's not dangerously corroded. It could make all the difference.
Check out the MOT Inspection Manual for more information and guidance.