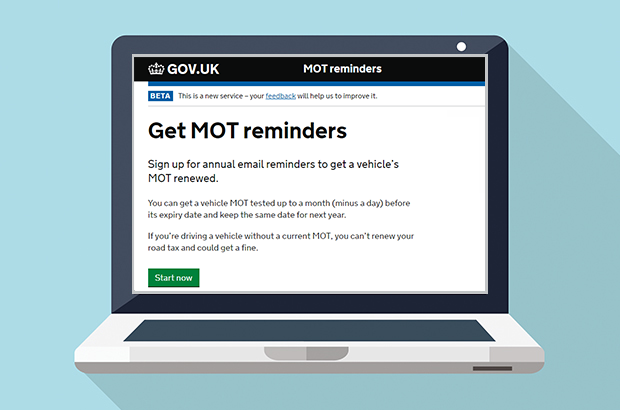 I last updated you on what we're doing to improve the MOT testing service on 7 July. Thanks for all your feedback. We do read it all and try and take it on board but I'm sorry that we don't get to reply to it all.

MOT reminders
So, one of the big things we've been working on since the last update is our MOT reminders service, which I told you more about a couple of weeks ago.
Since publishing the blog post about its development, we've seen the number of users jump from 5,000 to 26,500.
Having more people using the reminders service and giving us feedback has proved really useful. We've already received some good ideas for improvements to the service, including adding MOT reminders by text and letting drivers input their vehicles details into the service before they're due their first MOT.
We've began working on these ideas all of which will further help to reduce the number of cars overdue for an MOT.
Quality information updates
We've recently updated the way garage data is presented on the MOT testing service. The changes we've made will make it easier for garage managers and testers to spot unusual trends in the pass/fail rate and possible testing quality issues.
This information is very important. We've put a lot of work into making the way it's displayed more helpful and more easy to understand. We're going to continue updating the information we make available to you and improve how it's displayed. We'll make sure that we keep you updated when we make further changes.
Minor changes to the service
As mentioned in my blog post on 7 July, we've had some feedback on the service 'time-out' (before having to log back in) being too short – particularly when using a tablet to record the MOT result in real time.
We listened to your feedback and increased the time before you get signed out to 15 minutes, so this should make the service easier for you to use.
In the background we've continued to work on the financial side of the testing service. This supports DVSA moving to a new accounts system and will make our payments system more reliable.
Looking ahead
We'll update you again soon about what we've been working on. By then, we hope that even more of you will have tried our MOT reminders service and encouraged your customers to do so.